Amsterdam is one of the most popular cities to visit in Europe, packed full of museums, cool attractions, and fun things to do. If you're planning a trip and don't know where to start then don't worry! We've gathered together everything we can think of that you can do on a vacation in Amsterdam and have come up with a 68 item-long bucket list.
1. Get Your Art on in the Rijksmuseum
The Rijksmuseum is the largest art history museum in the Netherlands, featuring 8,000 pieces and objects by Rembrandt, Vermeer, and other Dutch masters. Check out thee gem in the crown of the Museumplein, an absolute must-see site for art-lovers.

6. Discover the Master in the Van Gogh Museum
Even people who don't know anything about art know about Vincent van Gogh. The Van Gogh Museum in the Museumplein is home to paintings by the artist from several different periods in addition to some works by his contemporaries – and you'll even get to see the famous Sunflowers.
11. Visit the Anne Frank House
Anne Frank was a German-born Dutch girl whose Jewish family hid in an annex during the Nazi occupation of the Netherlands. They were eventually discovered and transported to concentration camps, where Anne died at the age of 15. After her death, her father Otto published her diaries, which became a bestselling book worldwide. The Anne Frank House is the site of the annex where she and her family lived for over 2 years and contains an exhibition dedicated to her life, writing, and the impact of the Holocaust. It's a somber place to visit, but an important one for those who want to understand the story and its place in the city's history.
16. Catch a Performance at the Concertgebouw
Lovers of classical music should definitely not miss out on a trip to the Royal Concertgebouw, renowned for having some of the best acoustics of any concert hall in the world. Watch a concert to experience it for yourself!
19. Meet the Stars at Madame Tussauds Amsterdam
Wherever you are in the world, Madame Tussauds is an institution you won't want to miss. In addition to your favorite global stars, the Amsterdam attraction has a room which lets visitors take part in iconic artworks, from Dalí's surreal landscapes to Rembrandt's Night Watch.
22. Go Cheese Tasting at Henri Willig
Henri Willig makes traditional Dutch cheeses – you might recognize the bright colors from stores back home since they export to more than 30 countries worldwide. Head to the Amsterdams Kaashuis for a demonstration of how to make cheese and to get a taste of several different flavors!
27. Feel like a Prince or Princess at the Royal Palace of Amsterdam
The Royal Palace of Amsterdam is still in use as King Willen-Alexanders's official reception palace, so you'll need to double-check before visiting in case there are any important state occasions. On other days, you'll be able to explore the extravagant interiors at your leisure, pretending you're a member of the Dutch royal family.
30. Learn Traditional Paint Stamping Techniques
Who doesn't love coming home from a vacation with a new skill? The Dutch Costume Museum organizes a workshop once a month that teaches traditional Staphorst paint stamping skills. Learn how to do it and then decorate a bag to take home with you!
33. Discover your Inner Material Girl at the Diamant Museum
The Diamant Museum Amsterdam is found in the heart of the city and a guided tour will teach you about the city's role at the heart of the diamond trade. Later in the tour, a diamond expert will show you how to tell a fake stone from a real one, or you can book a workshop to learn how to polish diamonds yourself.
38. Paddle a Canoe through the City's Wetlands
Leave the busy canals behind when you escape to the wetlands that surround Amsterdam, and do it all under your own steam! Take a canoe trip with a guide to see a different side of the Netherlands from the water.
43. Skate on the Keizersgracht or Prinsengracht
If you're visiting in winter then you might just be lucky enough to see the canals freeze over! You'll see the locals get their skates out, and if you're intrepid enough to venture out onto the Keizersgracht or Prinsengracht then you'll have a very 'ice time!
48. Learn about Germs at Micropia
Germaphobes beware! Micropia is a museum dedicated to microbes and microbiology, discovering the cool things that the tiniest life forms on the planet get up to, including how they can help or hurt us.
53. Get Green-fingered at the Hortus Botanicus
The Hortus Botanicus is one of the oldest botanic gardens in the world, and it's a great place to discover plants that you've never heard of before! It's also home to an interactive children's program and, over the summer months, the various greenhouses and palmhouses host live music concerts for guests to enjoy.
58. Gaze in Awe at the Amsterdam Light Festival
From November until January, Amsterdam gets all dressed up for visitors! The Amsterdam Light Festival illuminates the facades of certain buildings and some bridges so that they look magical to both guests and long-time residents of the city. It's especially recommended to take a canal boat tour after dark during the festival, as the lights are especially impressive from the water.
63. Find a Great Souvenir at the Floating Flower Market
The Bloemenmarkt is a great place to go if you want a special souvenir from Amsterdam. The floating stalls sell tulip bulbs so that you can bring the beauty of Keukenhof and the rest of the Netherlands home to your backyard!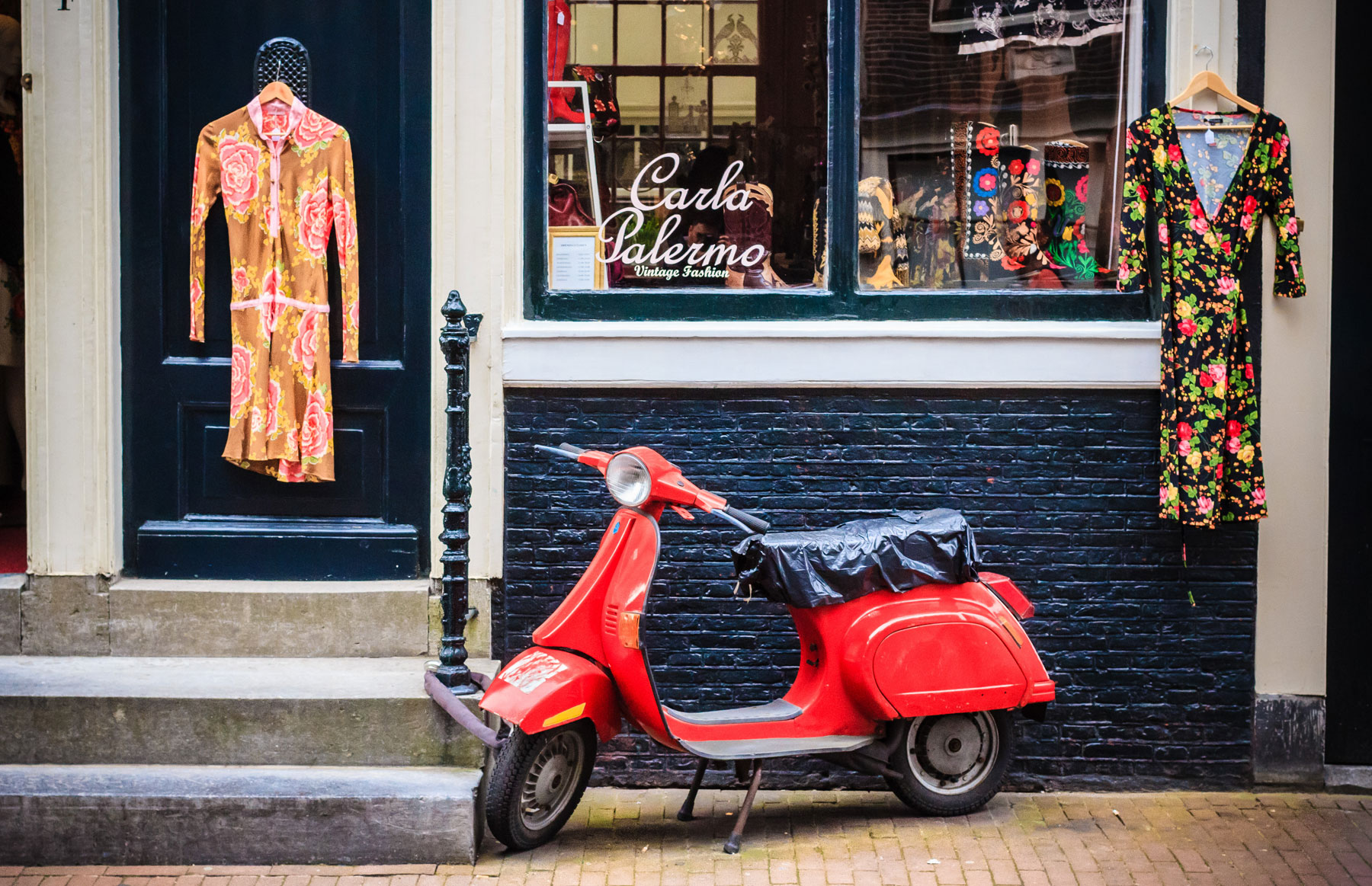 68. Explore the Negen Straatjes
The Negen Straatjes, or 'Nine Little Streets', is a neighborhood full of boutique shops, ateliers, and little eateries. For anyone who is looking for a unique gift for someone back home, or to treat themselves, the Negen Straatjes are a great place to go looking for something special in gorgeous surroundings!

Have you added any of these ideas to your Amsterdam bucket list? Or did we miss anything important? Let us know and happy traveling!