Everyone knows that what happens in Vegas, stays in Vegas, but do you know what else there is to do in Sin City apart from eat, drink, and gamble? We've put together a list of 52 fun things to do in Vegas, including plenty of family-friendly tips, to inspire you before your trip!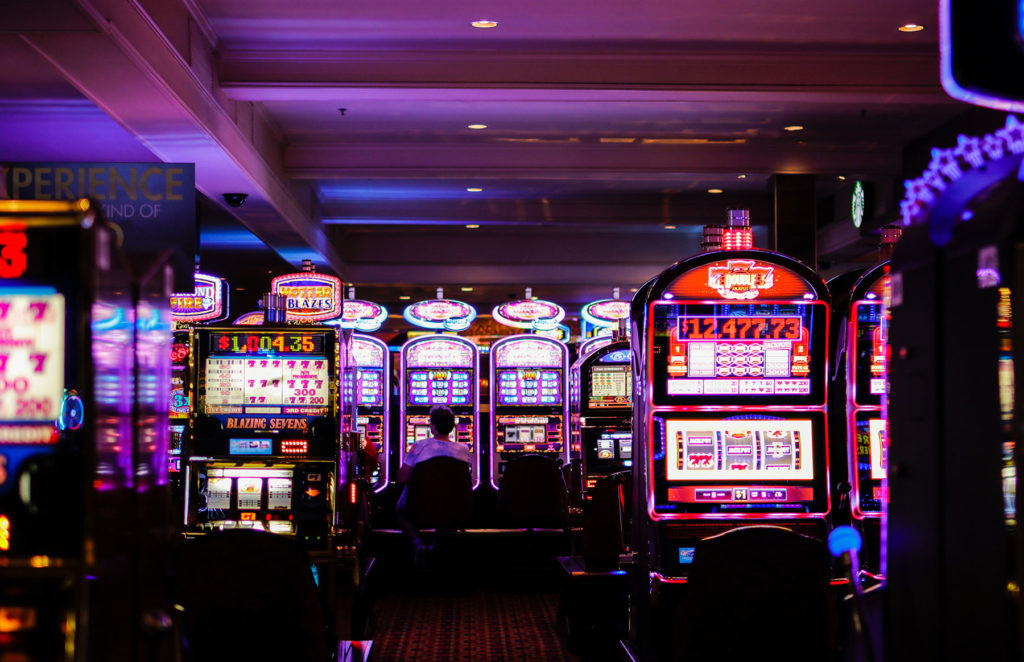 1. Take a Spin with Lady Luck at a Casino
Las Vegas has been famous for its casinos for decades, and their popularity is the result of Nevada's more permissive gambling laws. There are dozens of huge casino/hotel complexes, with plenty of things to do in addition to gambling, but hey, why not give it a whirl just to say you've done it? If you don't know how to play a game, several casinos offer free lessons to first-timers – just ask a member of staff for details.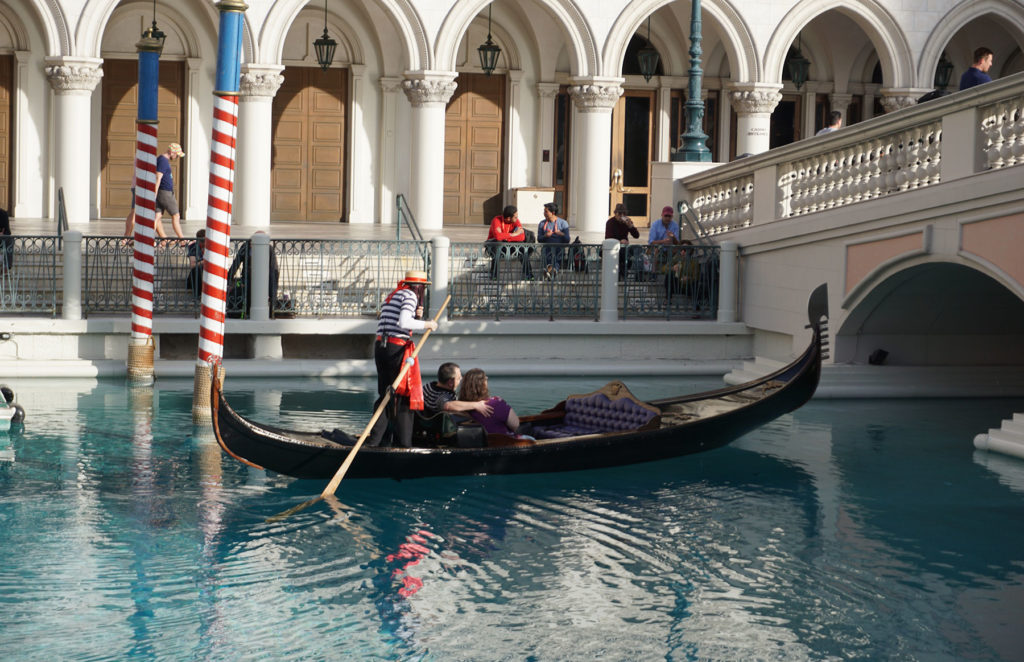 2. Relax on a Gondola Ride at the Venetian
The Venetian is one of the biggest casino complexes in Vegas, and since its opening in 1999, it's become one of the most iconic spots in the city! On your visit, you'll see replicas of the Piazza San Marco, the Palazzo Ducale, the Rialto bridge and other Venetian icons, and the best way to see them is on a gondola ride on the hotel's canal.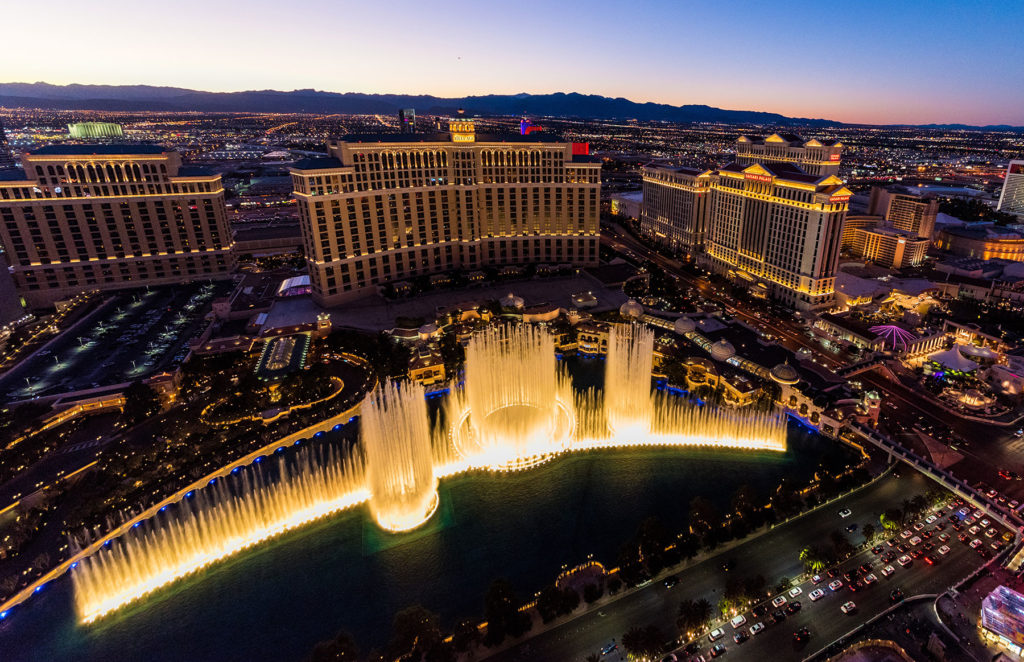 3. Be Amazed by the Bellagio Fountain show
If you've seen a movie about Las Vegas, chances are you've seen the Bellagio Fountains! The fountains also dance in time to music during their daily shows, which run every 30 minutes before 8 pm, and every 15 minutes from 8 pm until midnight. Get a photo or a video to make your Instagram followers wild with envy!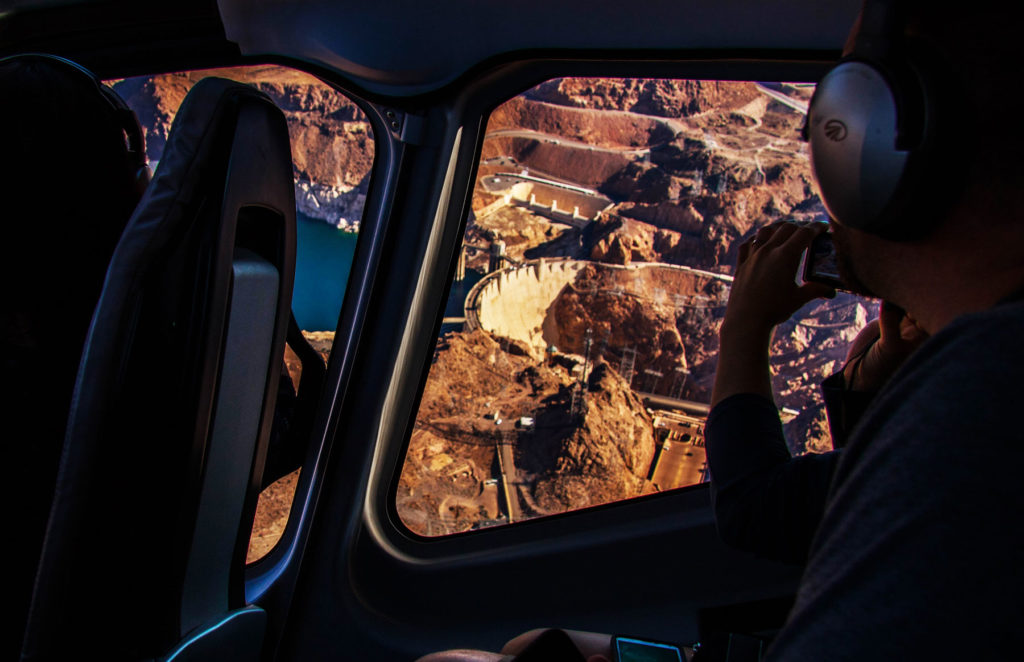 4. Take a Helicopter Tour to the Grand Canyon
There are plenty of day trips from Las Vegas to the Grand Canyon, but the drive there takes about 4 hours each way. Save yourself the time in a bus or car and get an awesome view of Nevada by taking a helicopter tour! You'll arrive in style and will have more time to explore the National Park, a total win-win.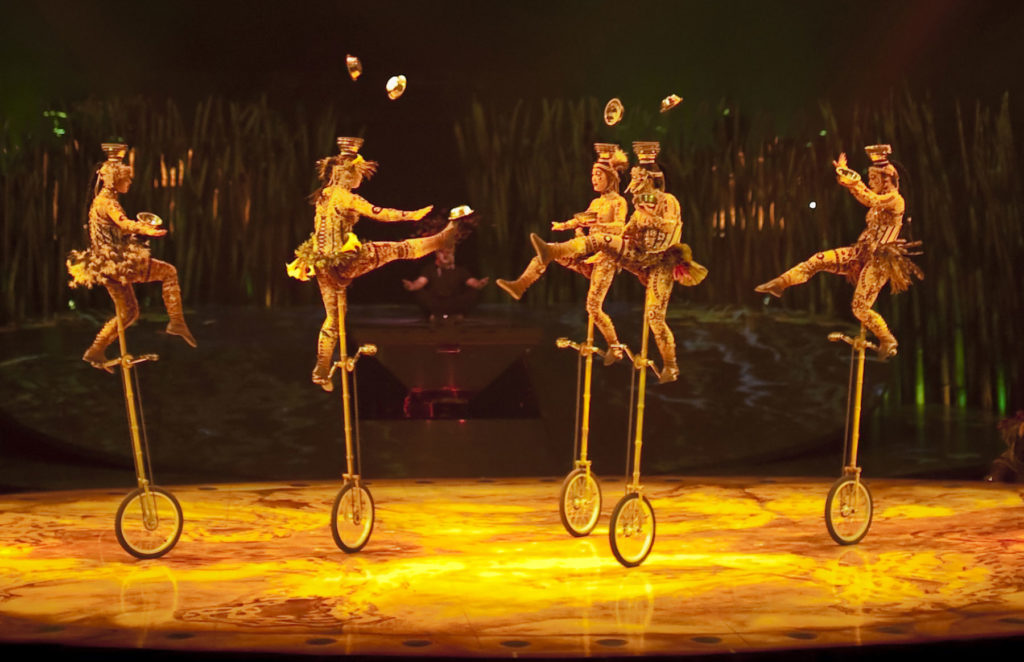 5. Catch a Magical Cirque du Soleil Performance
Cirque du Soleil has been wowing audiences since 1983, and fans of the performance troupe will be delighted to hear that they have 7 shows in Las Vegas alone! Visitors can enjoy their tribute to The Beatles at the Mirage and their tribute to Michael Jackson at Mandalay Bay Resort, as well as Zumanity at New York-New York, Kà at the MGM Grand, "O" at the Bellagio, and Mystère at Treasure Island.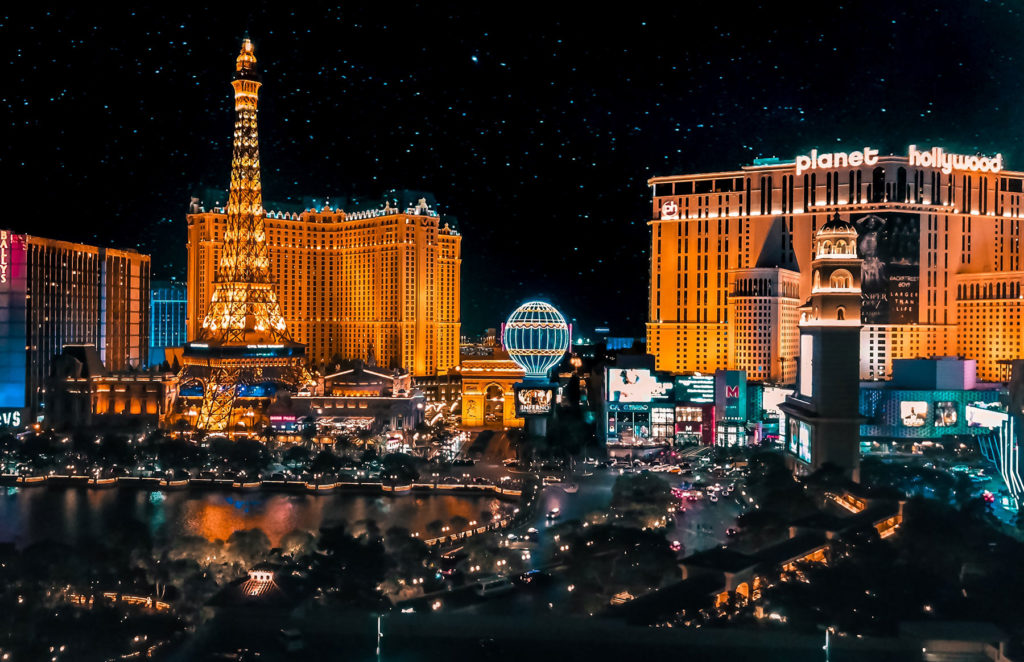 6. Get Parisian at the Eiffel Tower Las Vegas
The Eiffel Tower in Las Vegas is a half-scale model of the real thing in Paris, but that doesn't mean it's half as romantic! You can get a great view of the Strip from the observation platform, or enjoy fine French cuisine in its restaurant.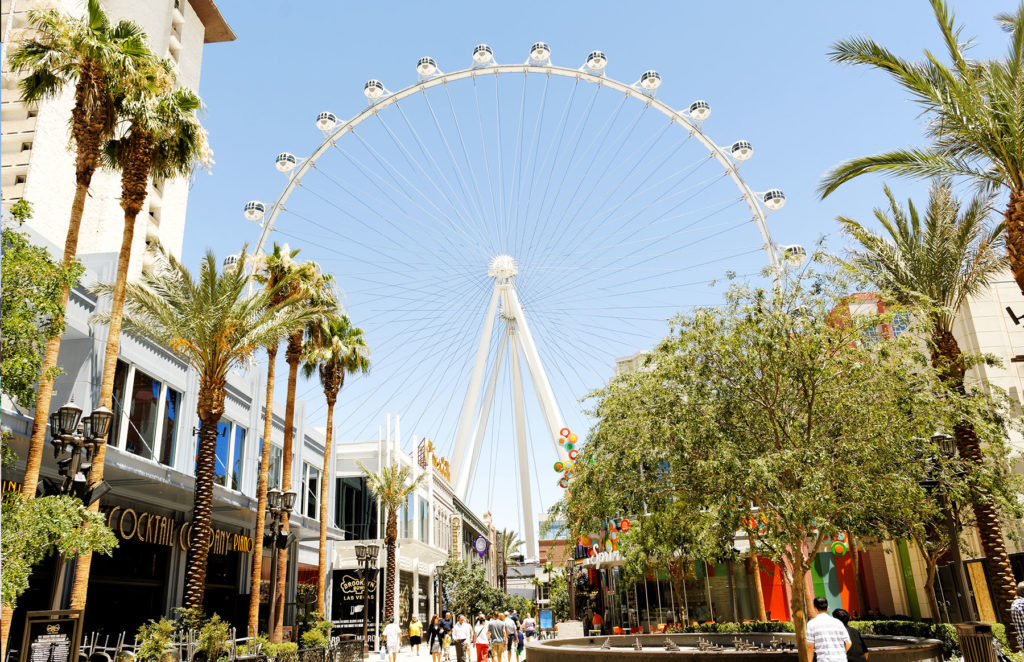 7. Ride the High Roller at the LINQ Hotel & Casino
The High Roller is the tallest Ferris wheel in the world! It's 500 feet (167.6 meters) tall, and is definitely one of the best places in Las Vegas to get a view of the strip. Visitors who enjoy a drink or two should consider taking advantage of the Happy Half Hour, a ticket option which gets you unlimited free drinks from the capsule bar for the duration of the ride.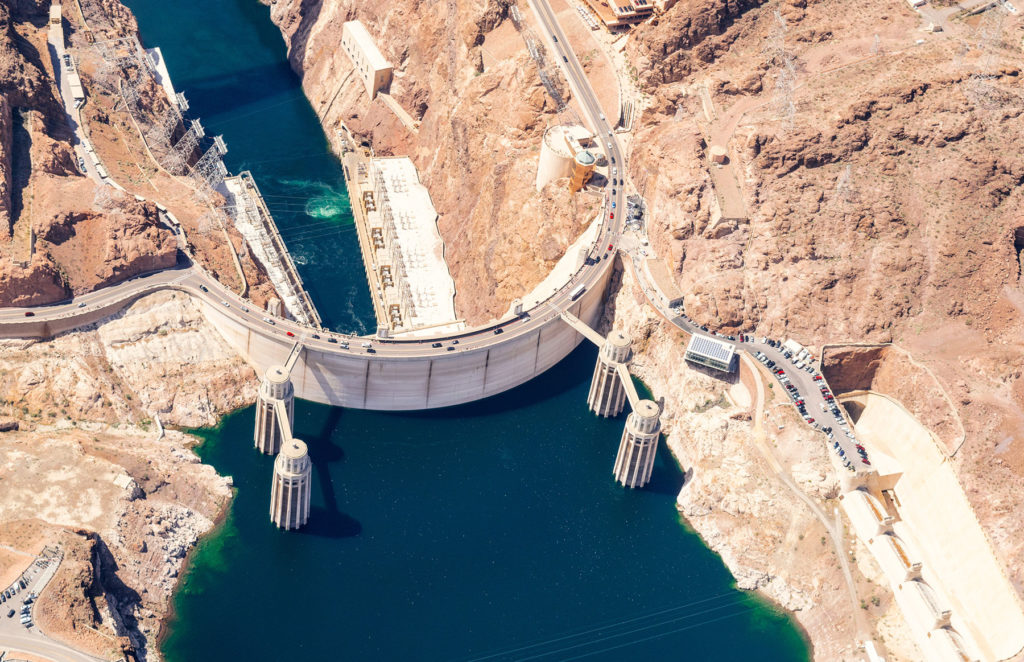 8. Enjoy a Hoover Dam Day Trip
The Hoover Dam is less than an hour's drive away from Las Vegas, and the huge dam is both vital as a power source and popular as a tourist attraction! Take a day trip with an expert guide to learn all about the history of its construction during the Great Depression and its importance for the region.

9. Get Stuffed at an All-You-Can-Eat Vegas Buffet
The hotels and casinos in Vegas try to make everything easy for their visitors, who can find all their needs met under one roof, including a need for lots of good food! Some casinos are renowned for their all-you-can-eat buffets, and we especially recommend visiting the Bacchanal Buffet at Caesar's Palace for world cuisine, the Bellagio Buffet at the Bellagio for unusual treats, and Paris Le Village Buffet at Paris Las Vegas for the best crêpes in the city.
10. Shop till you Drop at Downtown Container Park
Downtown Container Park is a unique shopping and leisure destination, with lots of stores located inside repurposed shipping containers! There are also plenty of dining options, plus an outdoor cinema, and a 4K visual dome which shows specially-made movies.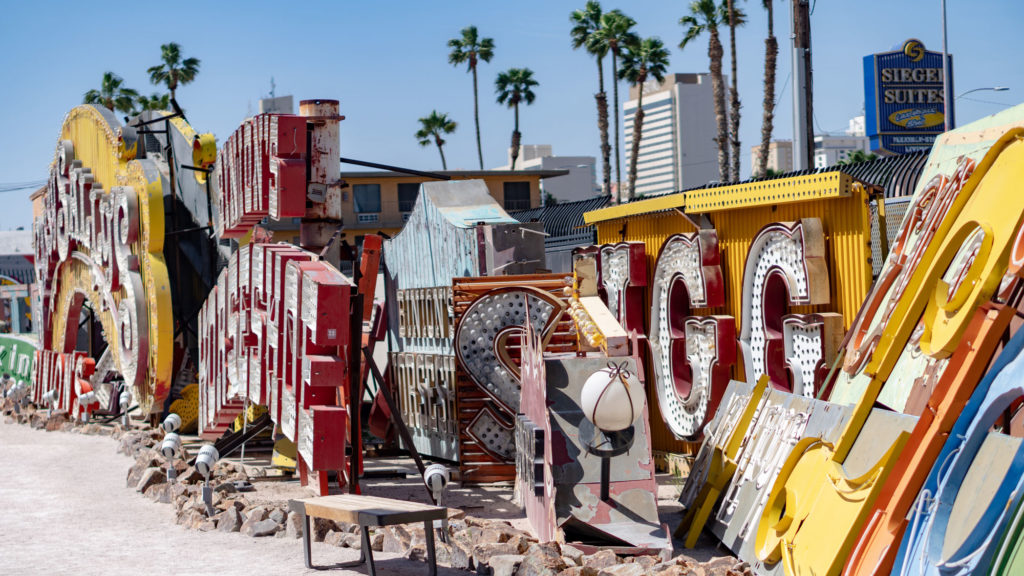 11. Read the Signs at the Neon Museum
The bright lights of the Strip are the signature of Las Vegas, but what happens when a light goes out? The Neon Museum has been collecting and preserving neon signs from different Las Vegas businesses since 1996, keeping some in the 'Boneyard' and restoring others and putting them up around the city as public art. A trip to the museum will give you a great sense of the different Vegas trends, and how tough it is to survive!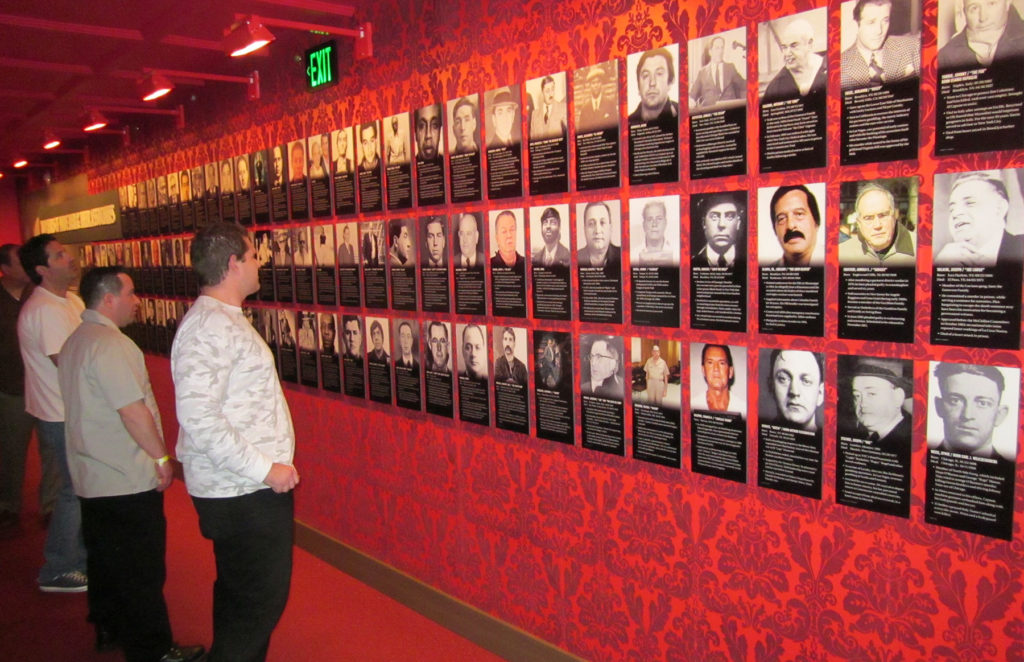 12. Discover Vegas's Criminal Past at the Mob Museum
The National Museum of Organized Crime and Law Enforcement, better known as the Mob Museum, features stories and objects about crime in Las Vegas, and the detectives who investigated it. From prohibition to money laundering to murder, you'll learn about it all in this museum that takes a long look at the dark side of Sin City.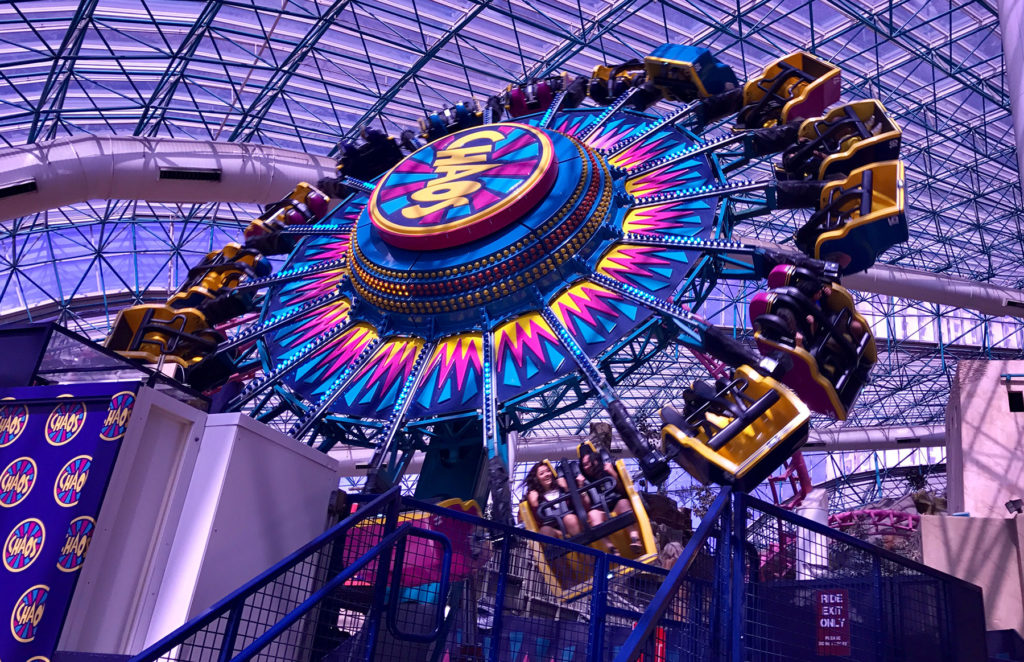 13. Find Thrills and Spills at the Adventuredome
The Adventuredome at Circus Circus is home to several awesome thrill rides, plus 4D movies, laser mazes, a roller skating rink, and free clown shows. There's something here to delight every family member, from small children to tough-to-please teens!
14. Explore Las Vegas's Chinatown
Chinatown in Las Vegas might not be as picturesque as the Chinatowns of New York or San Francisco, but it's just as vibrant! It's also where you'll find the best of Asian cuisine, as restauranteurs from different cultures flex their culinary muscles.
15. Let off some Steam in a Wrecking Room
Had a run of bad luck at roulette or blackjack? Never mind, there's a way to get any frustration out of your system – by beating the hell out of household items with baseball bats, golf clubs, and crowbars. Just smash it all up and let someone else clean up after you!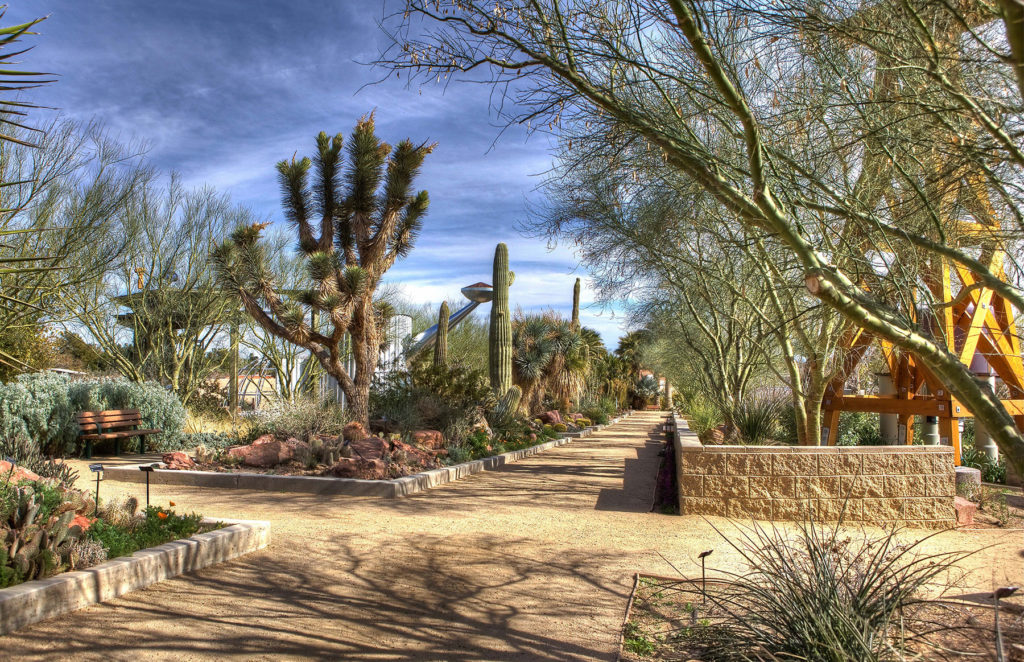 16. Visit the Oasis of the Springs Preserve Botanical Garden
Discover a cool green oasis when you take a trip to the Springs Preserve Botanical Garden! It features 180 acres of gardens, galleries, and nature walks and is the ideal place to learn all about the plants that survive in the Mojave Desert and other deserts around the world.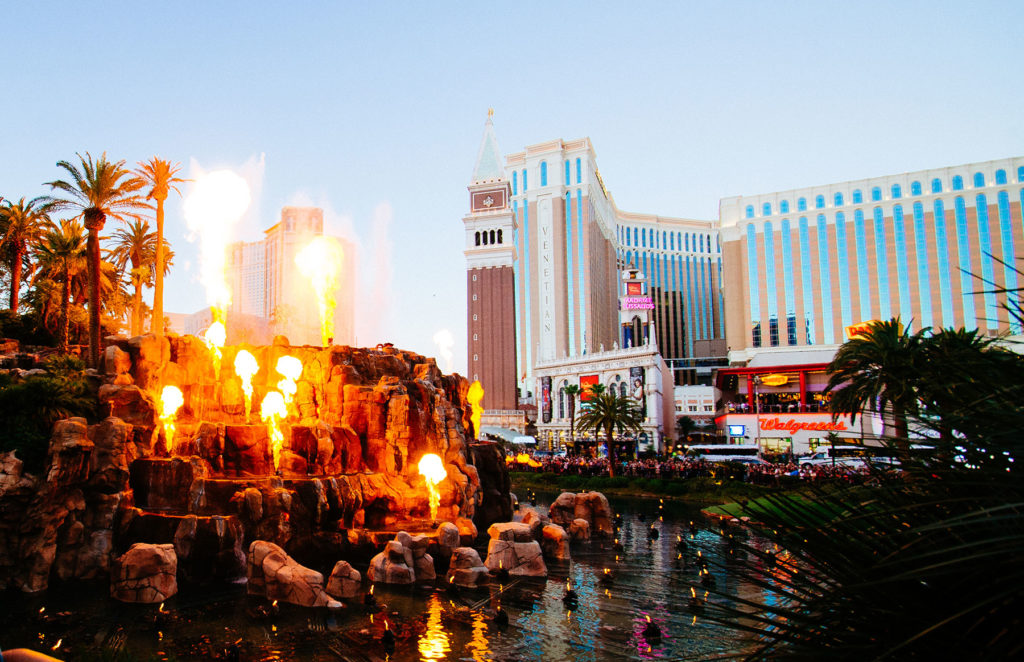 17. Be Dazzled by the Mirage Volcano Show
If you thought the Bellagio Fountains were great, why not follow up the water show with a firey delight at the Mirage? The hotel's volcano erupts at 8 pm, 9 pm, and 10 pm daily (weather allowing) and is a truly impressive sight!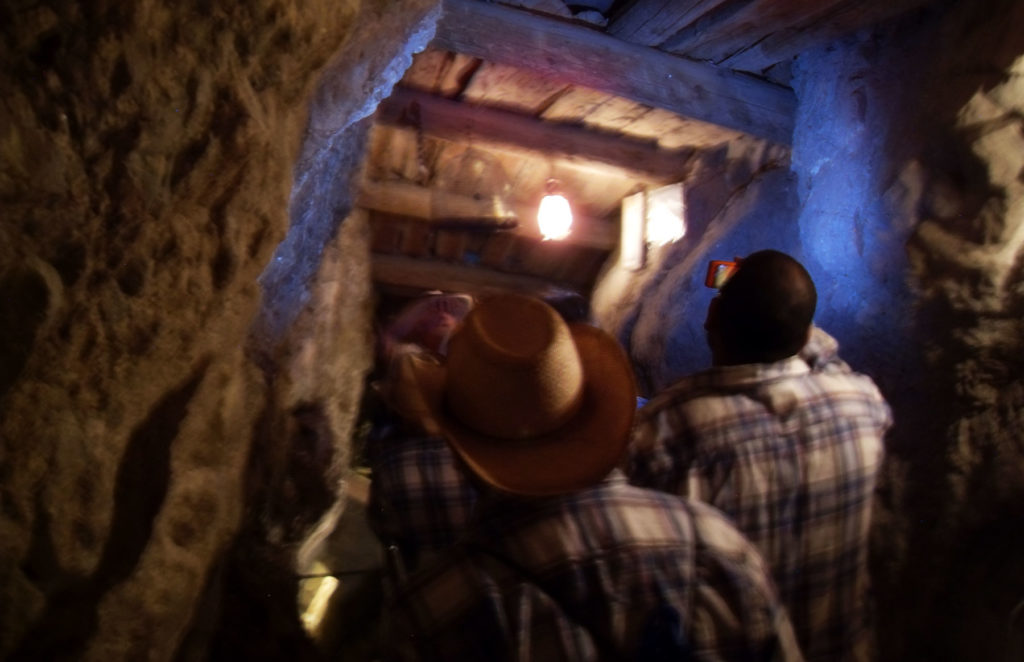 18. Get Spooked on a Tour of the Abandoned Techatticup Mine
Techatticup Mine used to be one of the most productive goldmines in Nevada before it was abandoned. Legends say that there were plenty of murders and other crimes committed at the mines as the prospectors scrapped over the best seams of gold. Today you can take a tour of the abandoned buildings and parts of the abandoned mine shafts.
19. Take a Luxury Spa Day
It's tough being on vacation, with the stress of traveling and the rush of trying to see all the sights. Take a day out of your itinerary to discover some of Las Vegas's most luxurious spas, with pools, saunas, and a host of treatments that will make you feel as good as new. Try the Spa at Mandarin Oriental for Eastern-inspired treatments, or the Qua Baths and Spa at Caesar's Palace which are inspired by the bathing traditions of Ancient Rome.
20. Take a Tour of the Strip at Night
The Strip and its hotels and casinos are pretty impressive during the day, but it only really comes to life after dark, when all the lights turn on. Take a tour with a private guide, enjoy a bus tour, or splurge on a helicopter tour!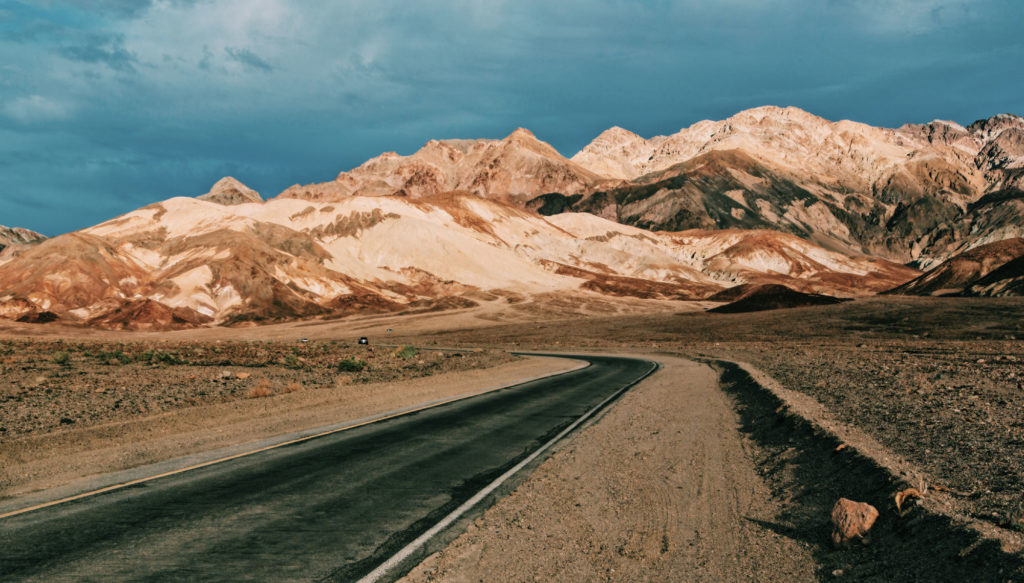 21. Be Daring on a Death Valley Day Trip
Don't worry: it's safe to visit Death Valley. Just don't stray from the group… The valley received its name during the California Gold Rush when several prospectors who hadn't adequately prepared died while attempting to cross, but with an expert guide at your side, all you'll see are the stunning geological features, including the Badwater Basin Salt Flats, that make the area so unique.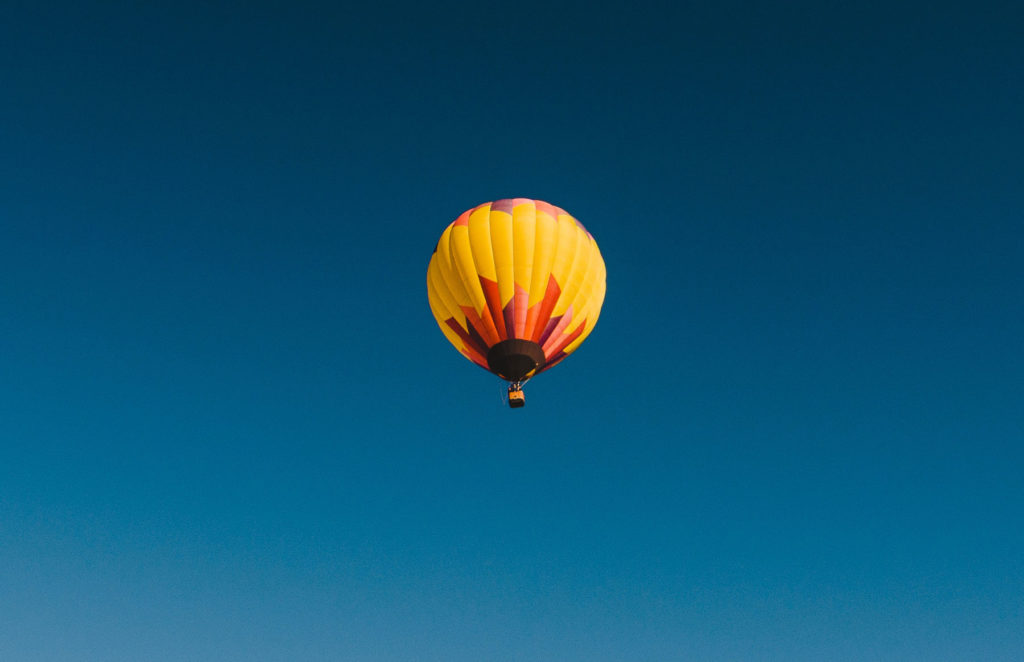 22. Soar over the City on a Hot Air Balloon Ride
Watch the sunrise and get out ahead of the day's heat by taking a hot air balloon flight over the city! You'll enjoy great views of Las Vegas below, plus an incredible panorama of the sun rising over the desert.
23. Take a Thrilling Ride on the Rio Zipline
The Rio Zipline is a hair-raising ride that will take you from the top of the Rio Hotel's Masquerade Tower (50 stories high) to the Ipanema Tower, 800 feet (243 meters) below. And it'll also pull you back up to where you started, so you'll get to see the view twice if you're not too busy screaming!
24. Hunt Down the Sculptures in the City Center Fine Art Collection
The City Center Art Collection is a project that brings sculptures to the public! With works by big names like Henry Moore and Nancy Rubins, you can track them down throughout the city, including on the forecourts and inside the lobbies of hotels and casinos.
25. Chow Down at the Hard Rock Cafe Las Vegas
Are you looking for good food for a good price? Do you love live music and musical memorabilia? Then head down to the Hard Rock Cafe Las Vegas where the burgers are good, the music is live (sometimes), and the memorabilia on the walls is legitimately exciting!
26. Get Higher at the Stratosphere Tower
The Stratosphere Tower is the tallest building in Las Vegas, therefore it's the best place to see the city from above! Not only does the tower have a sweet observation deck, but it's also home to four thrilling rides, including X-Scream, Insanity, and SkyJump, each of which dangles you over the edge of the building!
27. Hike the Red Rock Canyon
The Red Rock Canyon National Conservation Area is a stunning area of rugged natural beauty, with a picturesque 13-mile scenic drive leading through canyons and deserts, and 26 marked hiking routes ranging in difficulty from easy to strenuous. Take a guide with you who can show you the way, and make sure to pack plenty of water!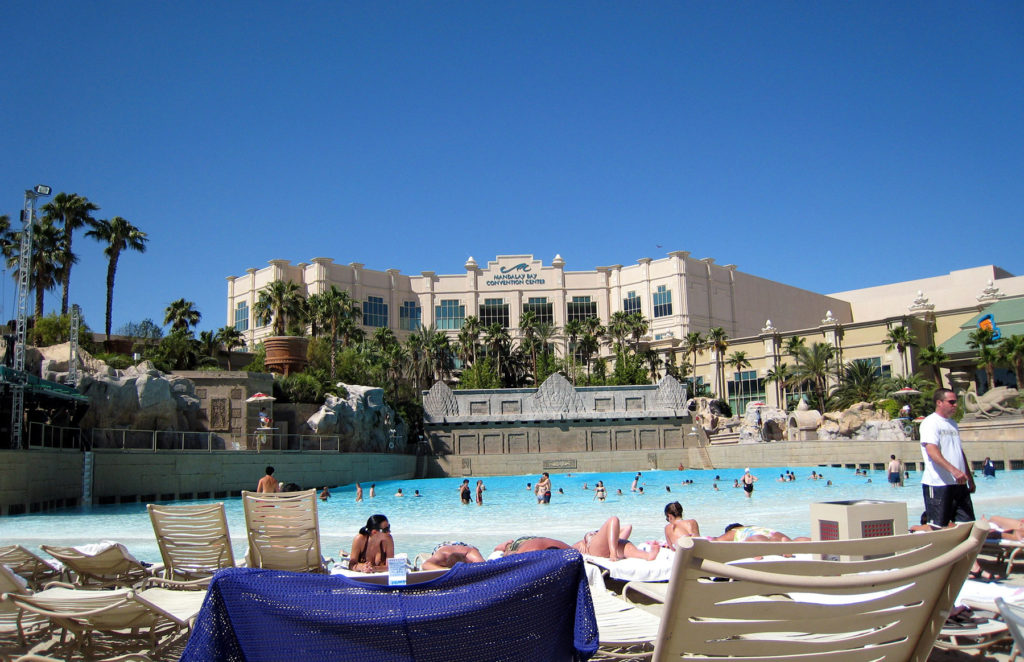 28. Spend a Day Swimming at Mandalay Bay Beach
If you're looking for a great way to unwind and enjoy the sunshine, then why not spend an afternoon at the Mandalay Bay Beach? Guests of the hotel can use the pool, wave pool, and lazy river for free, but visitors can buy a day pass from Monday to Thursday.
29. Take to the Track at SpeedVegas
Have you ever wanted to drive a Lamborghini? What about a Ferrari? At SpeedVegas you can test-drive all the cars you've ever dreamed of owning on a proper race track. Or, if you want to feel some speed, you can ride along with an instructor who'll show you how it feels to drift.
30. Go Digital at the HyperX Esports Arena
If you prefer your games a little more digital, then head to the HyperX Esports Arena! The arena is a 30,000 square feet dedicated to hosting all kinds of competitive gaming, from small daily tournaments to huge esports events. You can go along to watch the action or join in yourself!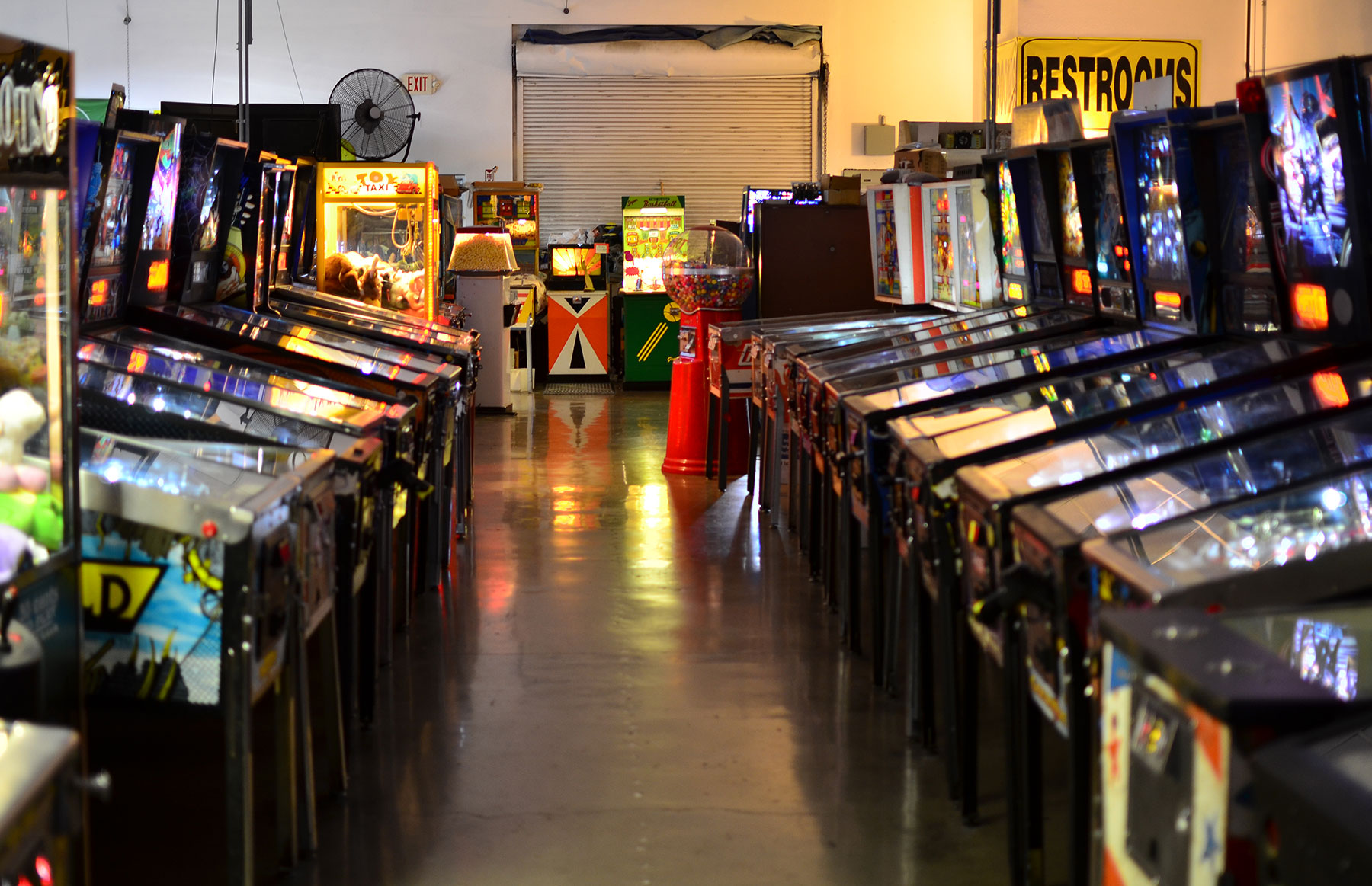 31. Spend Time Playing in the Pinball Hall of Fame
The Las Vegas Pinball Hall of Fame is a museum that houses the world's largest collection of pinball machines! The machines have all been restored and can be played, so make sure you bring a pocket of small change with you so that you and the whole family can have a go!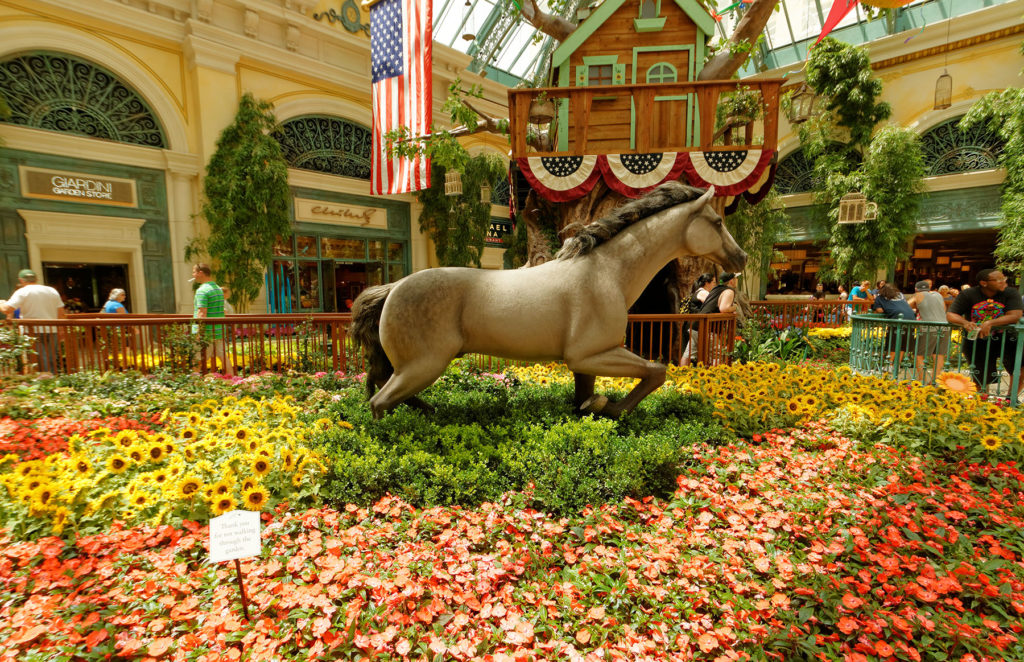 32. Go Green in the Bellagio Conservatory & Botanical Gardens
One of the best free attractions in Las Vegas, the Bellagio Conservatory and Botanical Gardens rotates its floral displays each season, meaning there's usually something new and interesting to see! With gazebos, ponds, and water features, a trip to the gardens is a great idea to relax after a busy day.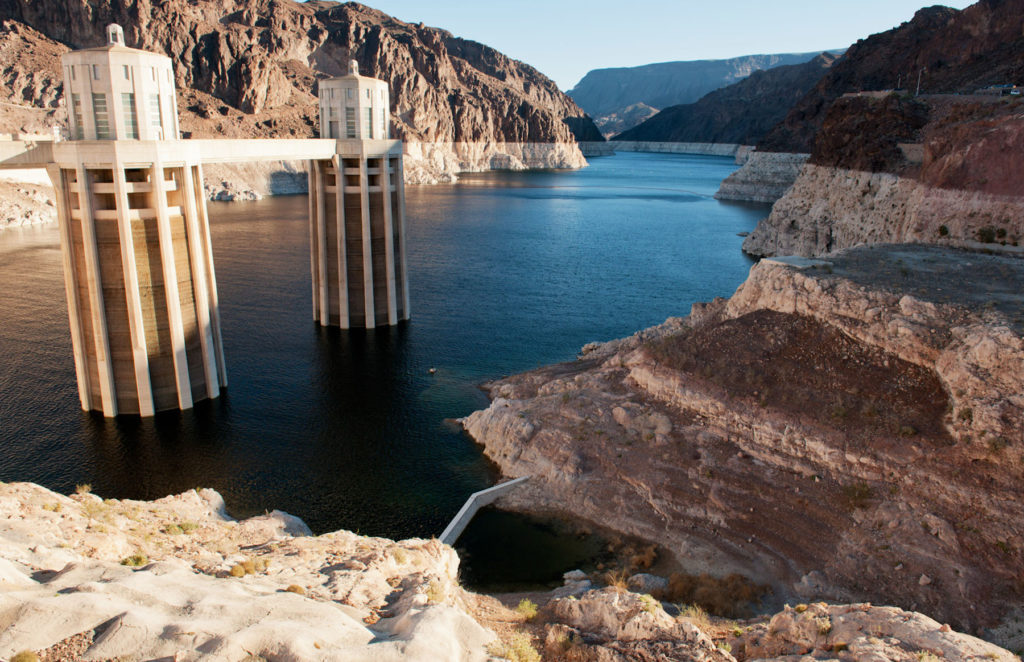 33. Enjoy a Day Trip to Lake Mead
Lake Mead was formed in 1935 after the completion of the Hoover Dam and is the largest reservoir in the US (when it's full). A trip to Lake Mead can take lots of forms – combine it with a tour of the Hoover Dam to learn about history, enjoy a cruise on the lake's waters, or get active in the Lake Mead Recreational Area.
34. Indulge your Inner Chocoholic on the Ethel M. Chocolate Tour
Ethel M. Chocolates are delicious, and their factory is based in the southeast of Las Vegas. On your visit, you'll see how the treats get made or you can book a chocolate tasting experience to find out what your sweet tooth really craves!
35. Live Fast (and Furious) at the Las Vegas Motor Speedway
If you're a fan of NASCAR or other kinds of motor racing then you should look out for events at the Las Vegas Motor Speedway. With 7 tracks, both indoors and outside, there's often an event on that will thrill any car lover.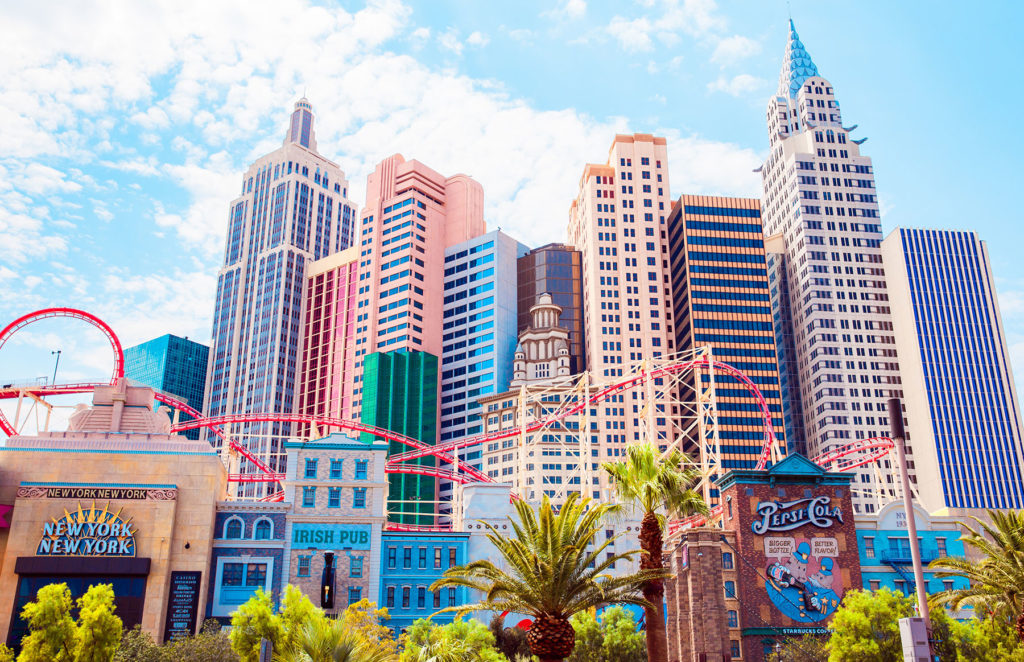 36. Explore the Big Apple at New York-New York
Have you been to New York? If not, don't worry! You can get all the best of the Big Apple when you visit New York-New York Las Vegas, a hotel and casino that lets you explore the iconic skyline (including a scale model of the Statue of Liberty), plus there's an arcade, several shows, and the Big Apple Coaster.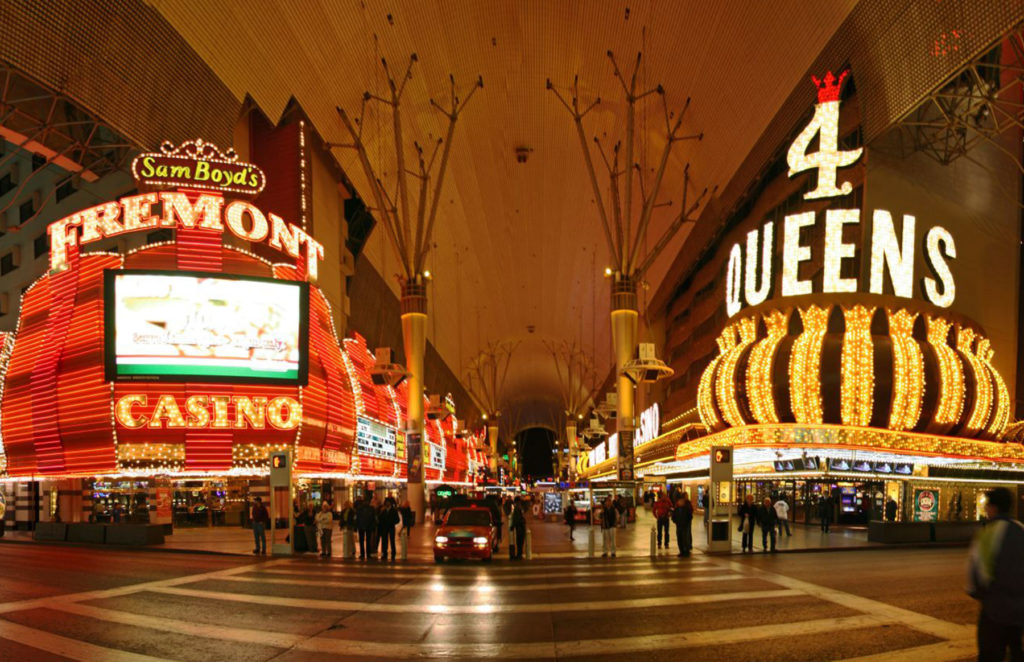 37. Wander Down the Famous Fremont Street
Along with the Strip, Fremont Street is an icon of old Las Vegas, with many of the best gambling joints located among the glitzy neon signs. Today the street is pedestrianized, which means it's ideal for exploring! It also has three stages for shows and events.
38. Marvel at the Blue Man Group
The men, the myths, the legends – the Blue Man Group has been entertaining crowds since 1987 with their unique blend of music, art, comedy, and weirdness. They've been putting on a show at the Luxor Hotel since 2015, and it's well worth a visit!
39. See all the Sights on a Hop-On Hop-Off Bus
If you're visiting Vegas without a car and don't want to ride public transport (though we'd recommend trying the monorail just once!) then why not invest in a Hop-On Hop-Off bus ticket? You'll get a tour of all the most important sights in town, with the chance to jump off at any stop that you want to explore in-depth.
40. Find Big Elvis at Harrah's Piano Bar
See one of the longest-running Elvis acts in Las Vegas on a trip to Harrah's Piano Bar! Entertainer Pete Vallee has been performing as the King since 1980 when he was only 15 years old. With all that experience behind him, you're sure to have a whale of a time!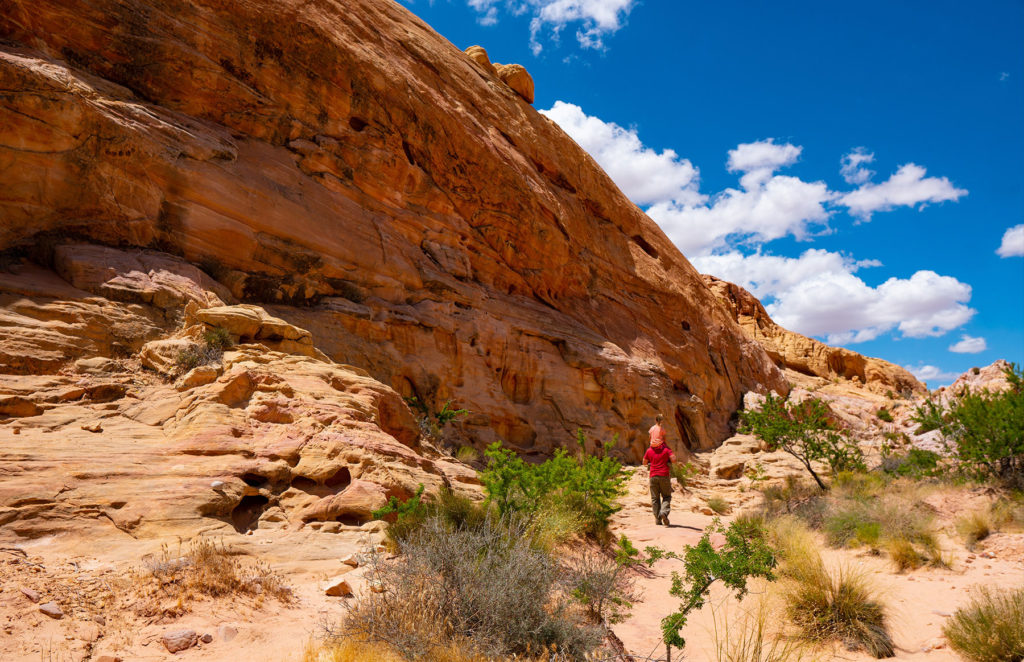 41. See Red in the Valley of Fire
The Valley of Fire takes its name from the Aztec sandstone it's made of – with gorgeous shades of red, pink, and orange, it's one of the most picturesque day trip destinations near Las Vegas. In addition to the impressive geology, visitors should look out for petroglyphs left behind by the Anasazi, or Ancestral Puebloans, who used the valley between 300BCE and 1150CE.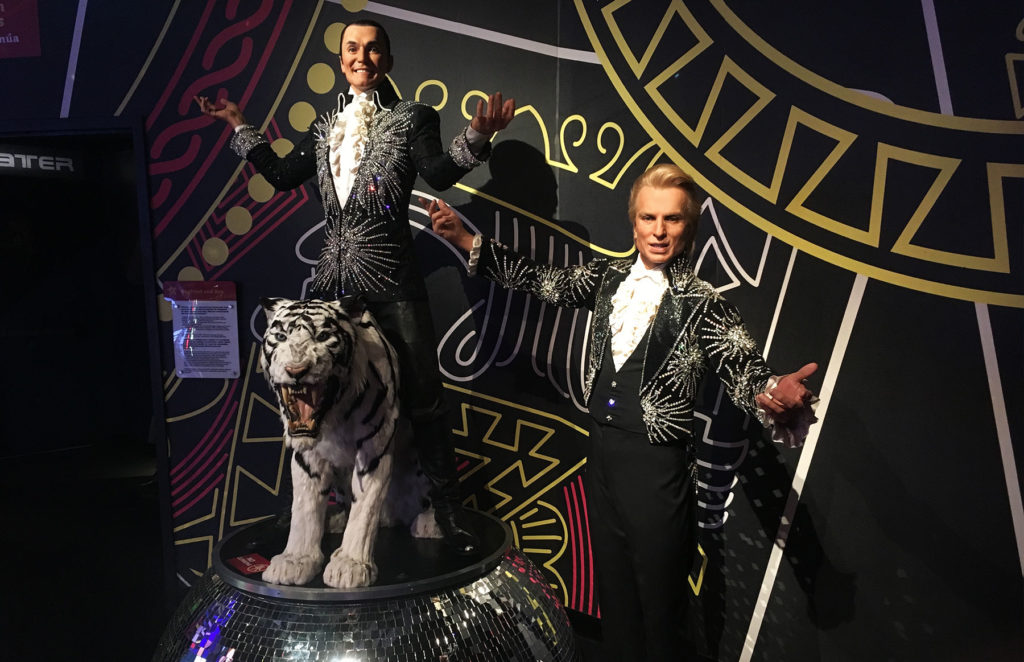 42. Meet the Stars at Madame Tussauds Las Vegas
If you want the chance to take selfies with all your favorite stars of stage and screen, you'd better plan a trip to Madame Tussauds Las Vegas. The Las Vegas branch of this international waxwork institution features a 90s room and a Hangover-themed bar.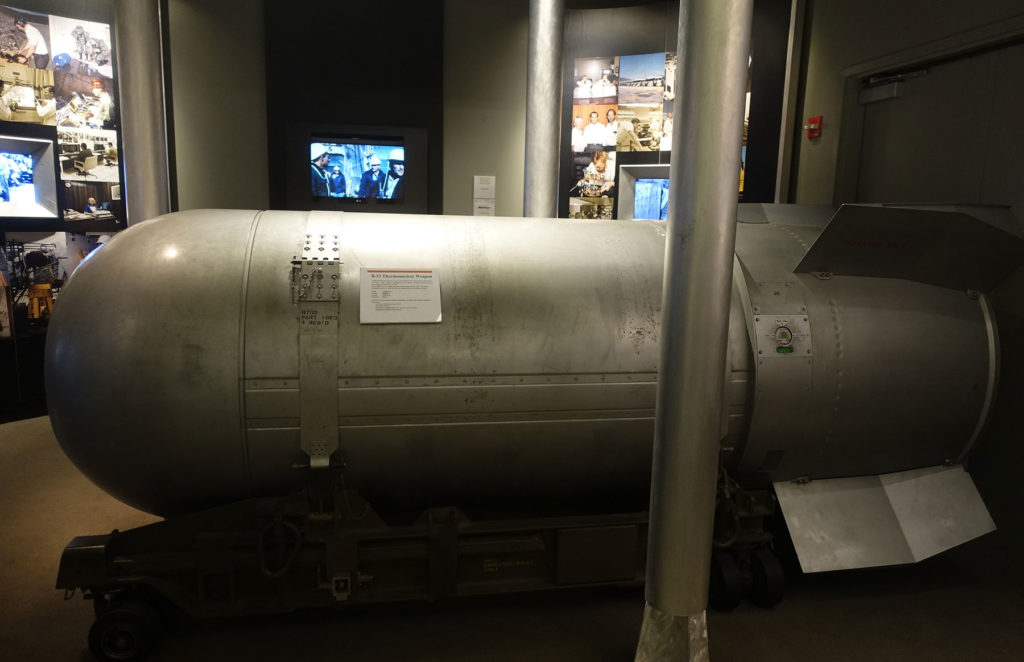 43. Get Nuclear at the National Atomic Testing Museum
The Nevada desert just north of Las Vegas was used to test nuclear weapons from the 1950s to the present day – although today's tests tend not to be of weapons and mostly take place underground. The tests in the 1950s and 60s are particularly famous as residents of Vegas used to watch the mushroom clouds from their homes and hotels. The National Atomic Testing Museum teaches visitors about the USA's nuclear past and present, with a focus on the Nevada Test Site.
44. Play the Superhero at Marvel Avengers S.T.A.T.I.O.N.
Marvel Avengers S.T.A.T.I.O.N. is a family-friendly interactive exhibition that stars everyone's favorite superheroes: the Avengers! Build case files on Thor, Captain America, Ironman, the Hulk, and more in order to help the team save the day!
45. See Mermaids at the Silverton Aquarium
The Silverton Casino Hotel has become famous in recent years for having real live mermaids in its aquarium! Alright, they're ladies in costumes, trained to swim in a tail, but small kids will feel like their picture books have come to life when they see them! If seeing them isn't enough, then there's also the chance to meet a mermaid or to go to mermaid school on Saturdays and Sundays to learn how to swim in a tail.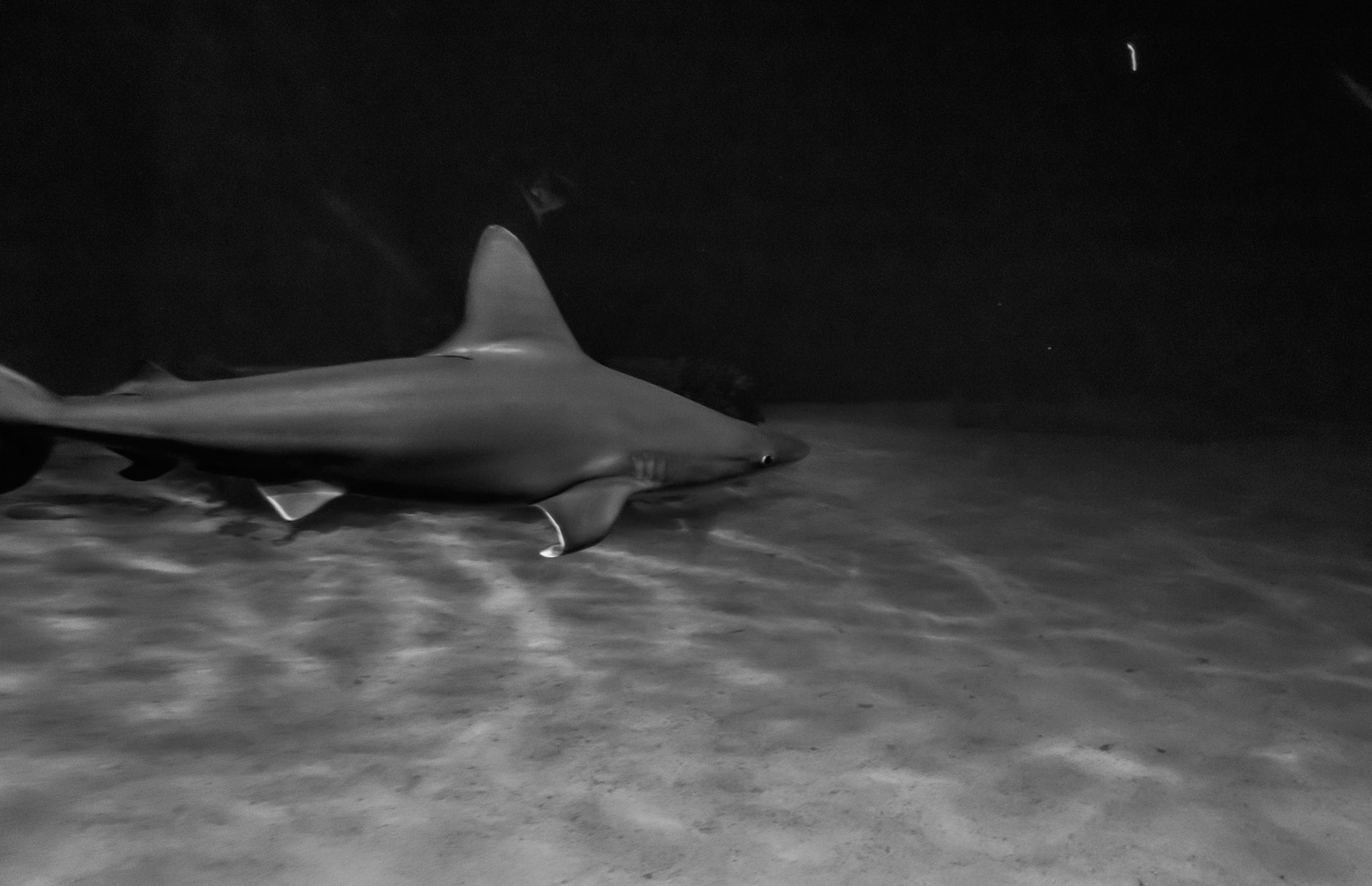 46. Meet the Predators at the Shark Reef Aquarium
Mandalay Bay is home to the Shark Reef Aquarium, an attraction that includes several different species of shark, plus rays, fish, and reptiles! With a touch pool and interactive displays throughout the aquarium, it's a great place for children to learn about the creatures of the world!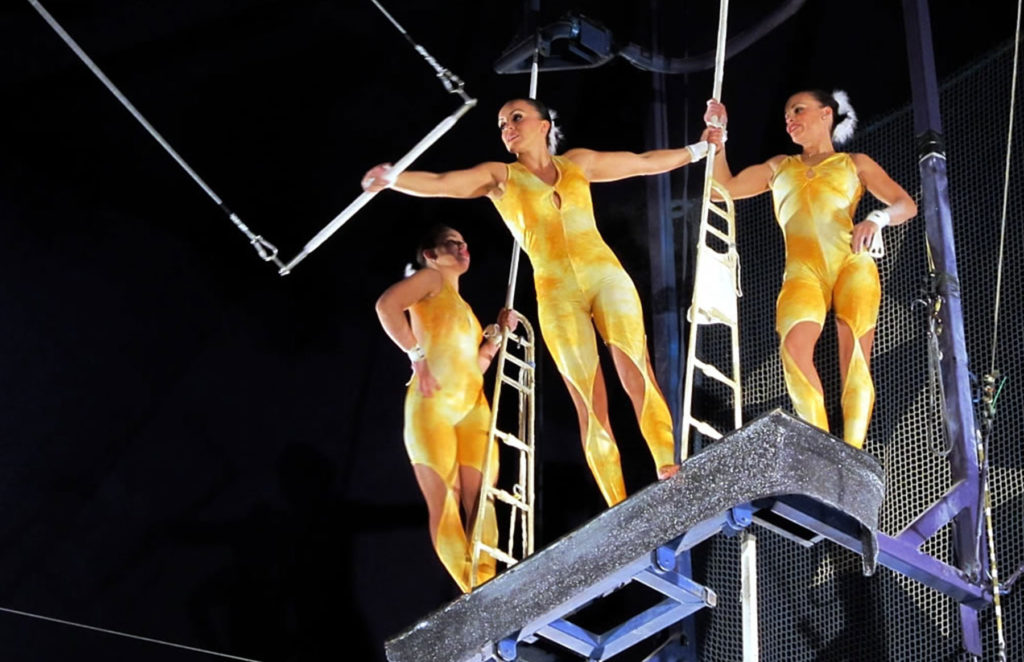 47. Enjoy Free Circus Acts at Circus Circus
There's nothing better than watching gymnasts and showmen and women at the top of their game unless you count watching them all for free! Just visit Circus Circus from 11.30 am onwards to see performers take over the Carnival Midway and entertain the crowds.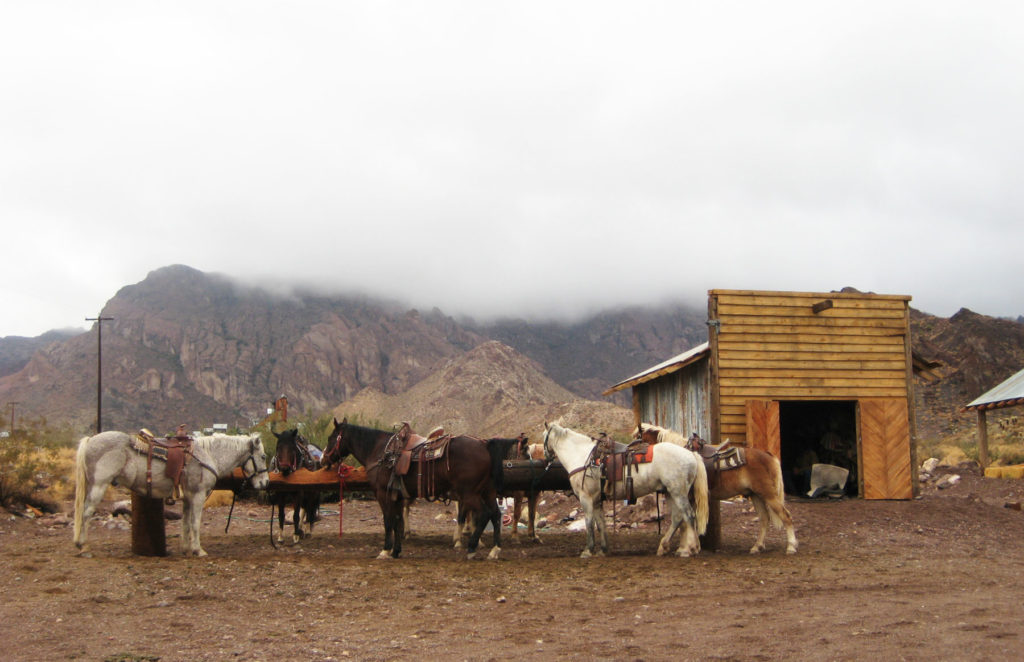 48. Be a Rancher for a Day
Have you ever wanted to be a cowboy? Do you dream of riding a horse through interesting terrain? You can learn all about being a rancher on a day trip to the Maverick Ranch, where you'll enjoy a delicious breakfast before saddling up and going for a ride with ranch hand guides.
49. Show Your Support for a Vegas Sports Team
If you're looking for a fun evening activity but you're not into shows, then why not check out one of Las Vegas's sports teams? The Golden Knights play in the T Mobile Arena, which also hosts the NBA's summer league, the Las Vegas Aces play their WNBA matches in the Mandalay Bay Events Center, and the Las Vegas Raiders are looking forward to playing football matches in the new Las Vegas Stadium, scheduled to open in 2020.
50. Go International at the Coca-Cola Store Las Vegas
It's one of America's best known and loved brands, but did you know that Coca-Cola also has regional drinks around the world? You can try up to 16 different local specialties, plus find merchandise, and meet the Coca-Cola Bear at the Coca-Cola Store Las Vegas.
51. Take a Segway Tour of Downtown Las Vegas
Downtown Las Vegas is a pretty big area, and there are plenty of interesting sights to see. Get around a little bit faster when you take a Segway tour of the area, with an expert guide who can point out all the things of note.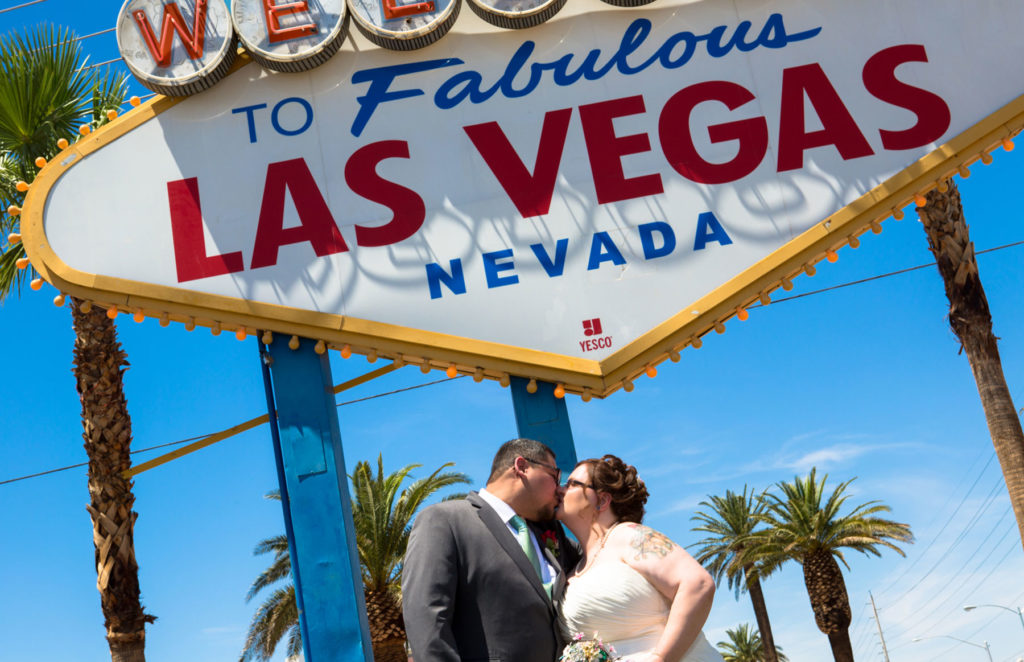 Get Married!
What happens in Vegas, doesn't always stay in Vegas! If you're not into big weddings and you and your partner want to get hitched quickly, then you've got plenty of wedding chapels or other venues to choose from! You can even get married on the Eiffel Tower Las Vegas for a day you'll never forget.
Is there anything we missed? Let us know what's on your Las Vegas bucket list in the comments below!