Every tourist wants to see as many attractions as possible while on a city break, and one of the easiest ways to achieve this goal is to take advantage of the popular hop-on hop-off services available. In almost every well-developed tourist town, you'll be able to spot brightly colored sightseeing buses or boats, often with an open-top deck so that customers can snap the best photos in the open air. Every day they stop at the best-known sights and most popular attractions on their routes, and it's up to each passenger to decide when they'll hop off the bus to explore, before rejoining the tour later. As a result, a ride on a hop-on hop-off tour allows customers to see the city without having to plan their own routes or buy tickets for public transportation while riding in style and comfort.
TicketLens has studied the range of hop-on hop-off offers available to customers in 77 destinations worldwide and compiled a ranking of the best tours. Which can be found here: Full Table
The study concludes that the best city for hop-on hop-off tours is Porto in Portugal, which has very affordable tours that cost $18.79 and cover 35 attractions over 24.1 miles. Meanwhile, the most expensive hop-on hop-off tours are found in Dubai, where a ticket will set you back $76.44, while the US is home to 8 of the top 10 most expensive tours. London is the city with the highest number of attractions available to see: you'll be able to hop off at an average of 65 stops on your ride.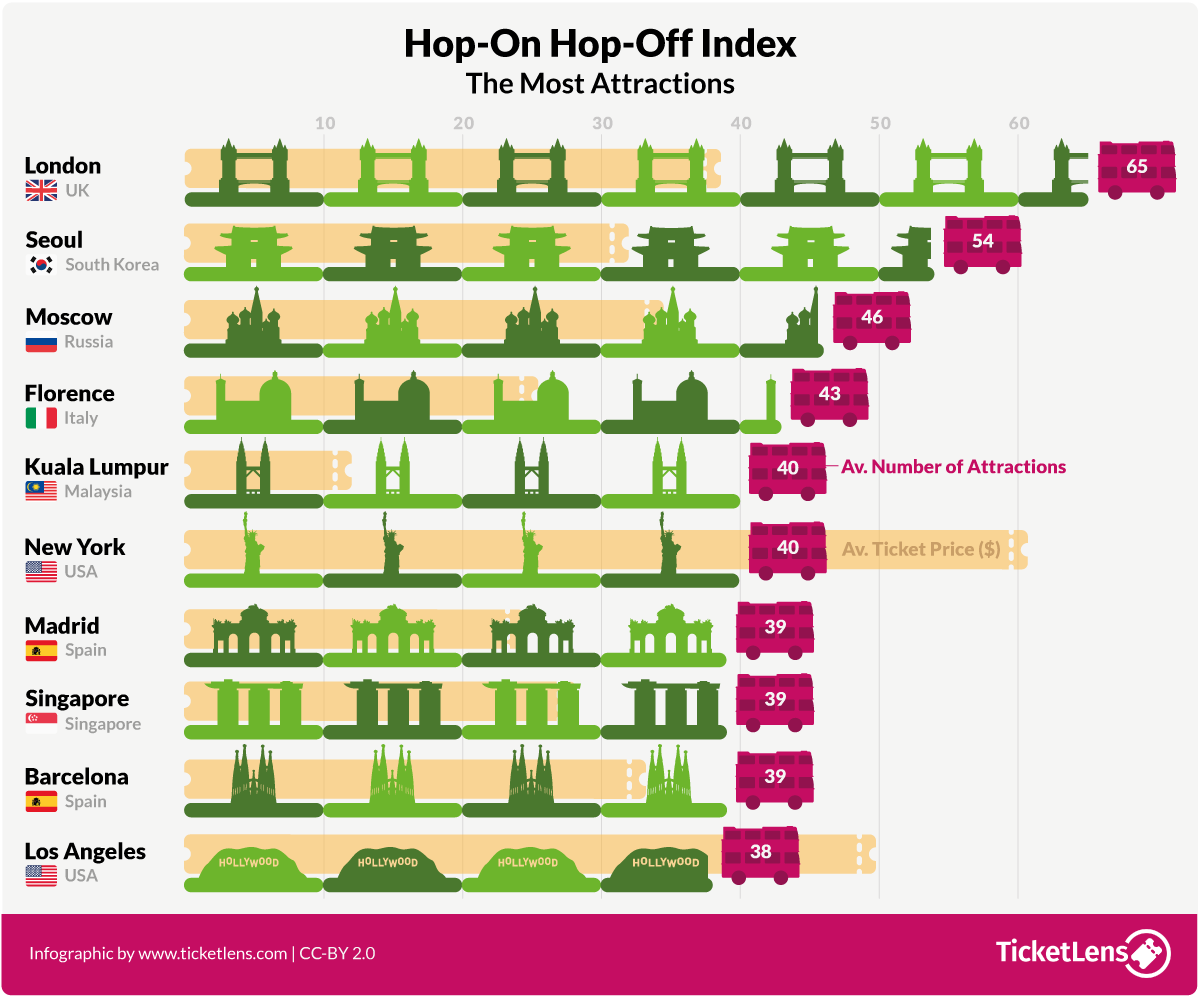 The graphic above shows the 10 destinations with the most attractions en-route, plus the ticket price in USD.
The images above highlight the 10 most expensive tours and the 10 cheapest tours around the world. The USA has 8 of the most expensive tours, with Seattle ($61.12) and New York ($60.70) topping the list. Bucharest has the cheapest tickets, at only $5.86.
Methodology
The study identified 77 cities with verifiable hop-on hop-off tours from around the world. Data on 8 factors were collected from the official websites of the providers. An average for each factor was taken across all the providers in each city.
The factors were ranked according to their importance to customers as follows: cost (30%), number of attractions (25%), the average number of routes (15%), duration in minutes (10%), number of providers (5%), length in miles (5%), the number of guided tours (5%), and the number of commentary languages (5%). The weighted scores were then combined to create a meaningful ranking.
Downloads