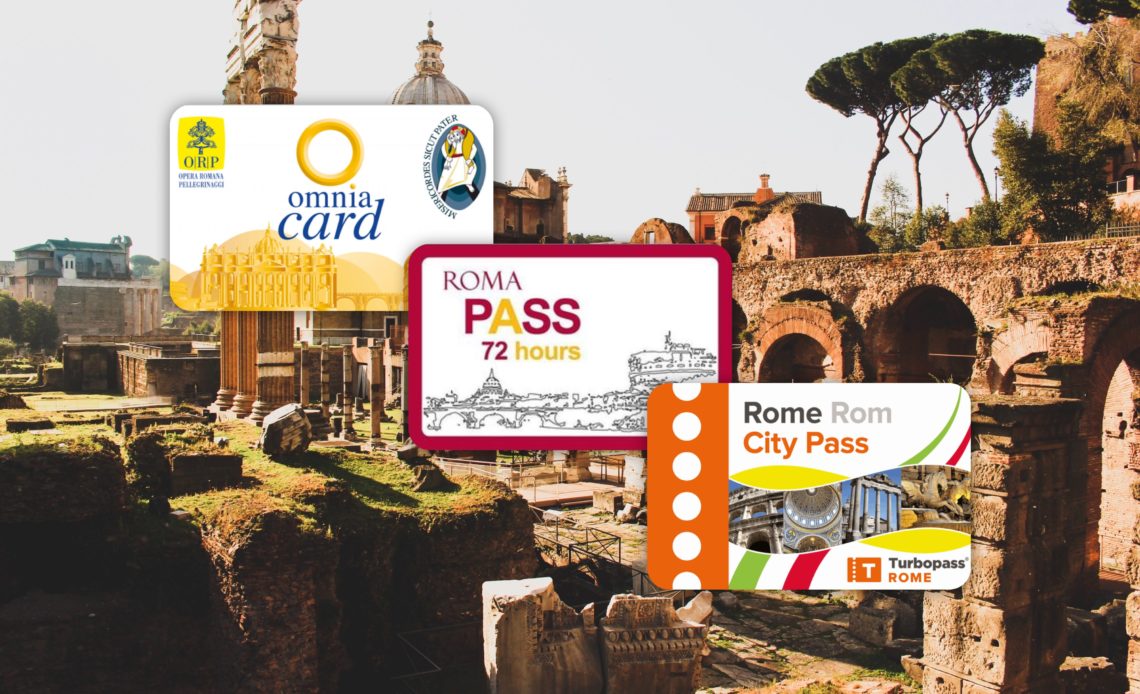 So you've booked the flights, you've sorted the hotel, and now you're down to the fun part of holiday planning: deciding what you're going to do in Rome! There are hundreds of museums, archaeological sites, and attractions to choose between and you probably have limited time. Maybe you want to see lots of different sites? Maybe you want the flexibility to walk up to any attraction and get straight in. Do you need public transportation? Are you a fan of Hop-On Hop-Off buses?

Maybe you've heard a rumor that city passes can help you save money, but you don't know where to start? Never fear! We've hunted down the details of the best-selling city passes so that you don't have to!

For Vatican-Lovers
Do you want to see the Vatican Museums, Sistine Chapel, and St Peter's Basilica, but not much else? Then the Omnia Card is for you! The 24-hour option will get you into the Vatican Museums, Sistine Chapel, and St. Peter's Basilica (with an audio guide), plus you'll get a Hop-On Hop-Off bus ticket valid for 24 hours. If you go for the 72-hour version then you'll also get to pick two other attractions to enter, including options like the Colosseum, the Borghese Gallery, the Castel Sant'Angelo and several more!

For the Indecisive Traveler
Go for the Roma Pass! If you know you want to do something, but you don't know exactly what yet, then the Roma Pass might be the most flexible option. At 28 EUR for 48 hours, it's also one of the cheapest options. You'll only get access to one attraction in the 48-hour pass (or two attractions with the 72-hour pass) but you have a massive range of options to choose from. Other perks include free public transport for the duration of your pass and discounts on tours, bike rental, luggage storage, and other services! The only downside is that it doesn't include any tickets for the Vatican.

For an ALL-YOU-CAN-EAT City Pass
For next to no restrictions on where you can go and what you can do, try the Turbo Pass! You can visit all the sites you can cram into your chosen time period, which can be anything from 1 to 7 days. You'll also be able to use Hop-On Hop-Off buses to get from one attraction to the other, or you can opt for an upgrade to get a ticket for public transport.

Other City Passes
Finally, there are the Rome: Visit Passes, which are based around the CityPass guide app. From the Bronze pass (which includes the app and fast-track entry to St. Peter's Basilica), through to Platinum (which includes guided tours of the Vatican Museums, St. Peter's Basilica, and the Colosseum, plus audio guided tours of the Castle Sant'Angelo and the Pantheon, in addition to the app), the passes include several extras and perks that could make your trip truly special. They're more expensive than other city passes, but they could be exactly what you're looking for!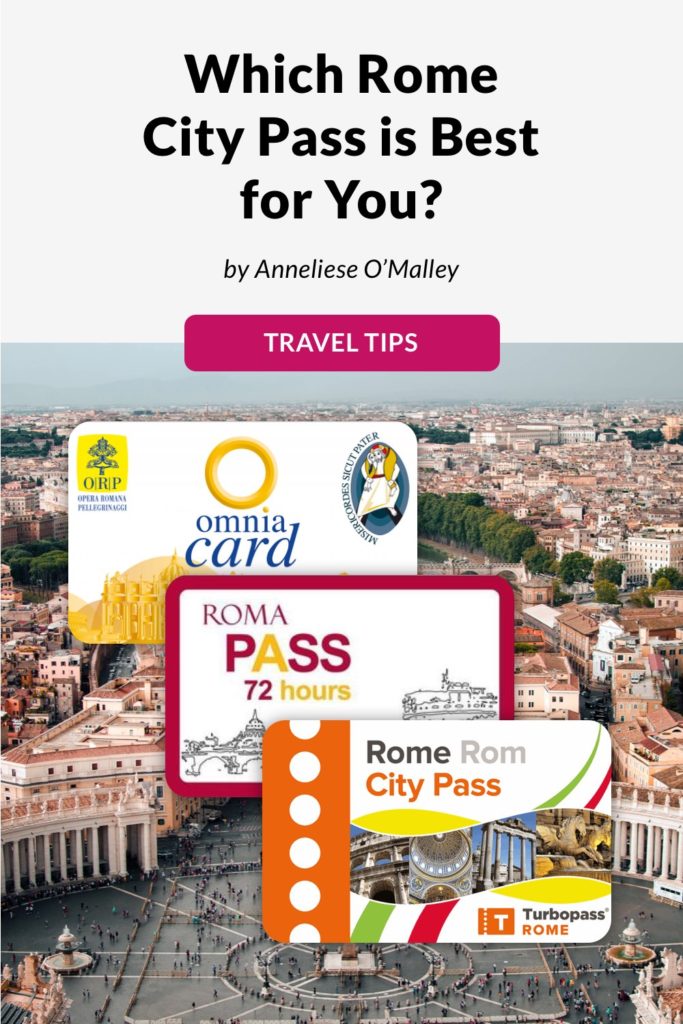 Detailed Comparison
| wdt_ID | Main Info | Roma Pass (48h) | Roma Pass (72h) | Turbo Pass (24h) | Omnia card (24h) | Omnia Card (72h) | Visit Rome Silver Pass (24h) | Visit Rome Gold Pass (48h) | Visit Rome Platinum Pass (72h) |
| --- | --- | --- | --- | --- | --- | --- | --- | --- | --- |
| 2 | Price | €28 | €38,50 | €64,90 | €55 | €113 | €44 | €125 | €153,33 |
| 4 | Public transport | Yes | Yes | Optional | No | Yes | No | Yes | Yes |
| 5 | Hop-on Hop-off | Discount | Discount | Yes | Yes | Yes | No | No | No |
| 6 | Free Entries | Yes | Yes | Yes | Yes | Yes | Yes | Yes | Yes |
| 47 | Discounts | Yes | Yes | Yes | No | Yes | No | No | No |
Prices are for one adult
Yes: Ticket included within the time limit of the city pass.
Free: Basic entry to this attraction is free, some city passes include additional perks (e.g. an audio guide).
Optional: When the card includes 1 or 2 attractions only, customers can choose from these sites.
| wdt_ID | Included Attractions | Roma Pass (48h) | Roma Pass (72h) | Turbo Pass (24h) | Omnia card (24h) | Omnia Card (72h) | Visit Rome Silver Pass (24h) | Visit Rome Gold Pass (48h) | Visit Rome Platinum Pass (72h) |
| --- | --- | --- | --- | --- | --- | --- | --- | --- | --- |
| 8 | St Peter's Basilica | Free | Free | Free | Yes | Yes | Yes | Yes | Yes |
| 9 | Vatican Museums | Optional | Optional | Yes | Yes | Yes | No | Yes | Yes |
| 10 | Colosseum | Optional | Optional | Yes | No | Optional | No | Yes | Yes |
| 11 | Villa Borghese | Optional | Optional | No | No | Optional | No | No | No |
| 12 | Castel Sant'Angelo | Optional | Optional | No | No | Optional | Yes | Yes | Yes |
| 13 | Capitoline Museums | Optional | Optional | No | No | Optional | No | No | No |
| 14 | Baths of Caracalla | Optional | Optional | Yes | No | No | No | No | No |
| 16 | MACRO museum | No | No | No | No | Optional | No | No | No |
| 17 | MAXXI museum | Optional | Optional | No | No | Optional | No | No | No |
| 18 | Rome Modern Art Gallery | Optional | Optional | No | No | Optional | No | No | No |
| 27 | Museo della Repubblica Romana | Optional | Optional | Yes | No | No | No | No | No |
| 28 | Museo delle Mura | Optional | Optional | Yes | No | No | No | No | No |
| 31 | Museo di Scultura Antica Giovanni Barracco | Optional | Optional | Yes | No | No | No | No | No |
| 32 | Museo Napoleonico | Optional | Optional | Yes | No | No | No | No | No |
| 35 | Museo Nazionale Romano | Optional | Optional | Yes | No | No | No | No | No |
| 36 | Parco Archeologico dell'Appia Antica | Optional | Optional | Yes | No | No | No | No | No |
| 37 | Ostia Antica | Optional | Optional | No | No | No | No | No | No |
| 38 | Villa di Massenzio e Mausoleo di Romolo | Optional | Optional | Yes | No | No | No | No | No |
| 39 | Museo Leonardo da Vinci | No | No | Yes | No | No | No | No | No |
| 40 | Museo delle Cere | No | No | Yes | No | No | No | No | No |
| 41 | VIGAMUS Video Game Museum | No | No | Yes | No | No | No | No | No |
| 42 | Roma 3D Experience | No | No | Yes | No | No | No | No | No |
| 43 | Gladiator Museum | No | No | Yes | No | No | No | No | No |
| 44 | Palazzo Merulana | No | No | Yes | No | No | No | No | No |