The great thing about being part of the Ulmon team is working with people who've turned traveling into an art form, and who always have great tips about where to go and what to do there. We've been working hard on bringing you some great new destinations in TicketLens, so we thought we'd take a break and sit down with Nicholas, iOS developer supreme, to pick his brain about visiting Dubai, one of the fastest growing tourist destinations in the world.
Anneliese: What were you expecting from Dubai before your visit? Did it live up to your expectations?
Nicholas: Dubai has always been on my bucket list. I enjoy watching documentaries about the engineering and construction of its buildings and islands, and I was curious about it for quite a while before going.
I also always wanted to fly with Emirates, and if you book a plane ticket that includes a stopover in Dubai then it's usually cheaper. I decided to do that and booked a flight to Singapore with a four-day stopover in Dubai in November 2016.
The first thing I noticed was that it was really hot, even in November. The city is surrounded by deserts, and, apart from the main attractions, the best places to find shelter were shopping malls. I also found the new infrastructure of the city – huge buildings, transportation – to be really interesting, especially the contrast between the modern buildings and new technology and the surrounding desert.
It was exactly what I was expected and I wasn't disappointed at all. It was a fascinating trip.
A: What were the attractions or sites that you definitely wanted to see while visiting?
N: There were three main things I wanted to see: the Burj Khalifa, the Burj al Arab hotel, and the Ski Dubai dome. The first two attractions are icons of Dubai, and the ski dome was something I was just really curious to see.
A: How was your visit to the Burj Khalifa?
N: It was surprisingly good. I bought the ticket at the ticket counter (because TicketLens didn't exist yet!), and even though I could understand that there were different tiers of tickets, when I asked for a ticket I was automatically given one for At the Top SKY, which included the 148th floor. The price difference wasn't as big when buying on the day, so I wasn't too bothered.
I didn't know what to expect, but I was surprised to be taken to a fancy waiting room with tea and dates. Then you go up in the elevator – you can't really feel the speed so you don't need to worry about motion sickness.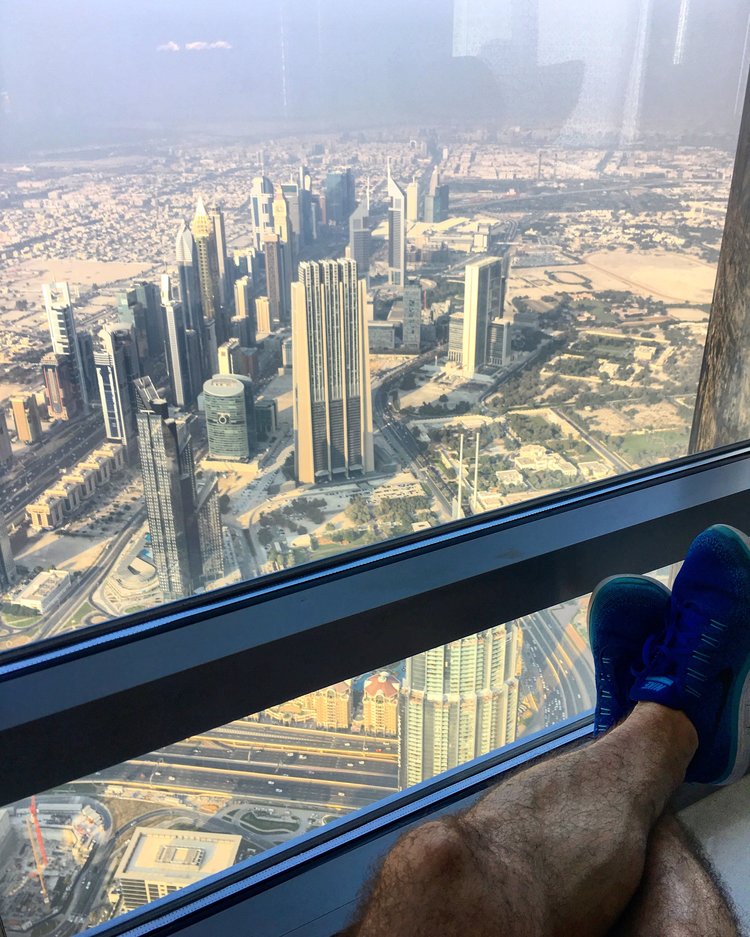 On the 148th floor, you're treated really well by the hosts, even if you don't book the exclusive private tour. On the top observation deck, there aren't too many visitors booked into each time slot, so there are no crowds and you can really enjoy the space.
The time you go is important because the early mornings can be foggy or misty and the view might not be so great. I went later in the morning and really enjoyed the view of the city, with almost clear skies. Things look really small from the top, especially cars!
From the top floor, you go to the 125th floor where you can go outside to the terrace for a clearer view from a lower perspective. It's still great, I didn't get bored of the view at all. It's more crowded, probably because it's the cheaper option and has a bigger capacity.
The 148th floor definitely had a better view, it was the first view I saw and it was a big surprise. I also watched the Dubai Fountain show at night, which was fine.
A: What were the highlights of your trip?
N: My accommodation was in Deira, a district where mostly locals live in Dubai and where there are several souks to explore. It was really interesting to visit and didn't feel dangerous at all, though it is more crowded and very different from Downtown Dubai, which most tourists visit. I visited the Dubai Marina during both the day and at night, and it's worth a visit at both times. It's the more western part of Dubai in terms of mentality and people you see. There's also a cool free beach close to the Burj al Arab so you can swim and pretend you're a guest of the hotel. It's big, not crowded and easy to access.
The aquarium inside the Dubai Mall was impressive, I could have spent hours looking at the different fish swimming past. I went back several times just to stare at it (and not just for the air conditioning).
A: Do you have any tips for people visiting Dubai for the first time?
N: Remember that the daily public transport ticket (which includes the metro) isn't a 24-hour ticket but expires at midnight every day. The metro is easy to use to get around. I also used other public transport to get to the Burj al Arab, and it was safe and easy to get there. I couldn't go to the Palm because you need a separate monorail ticket, which isn't covered by the city transport pass.
Go and eat at a souk, you'll find the best and most authentic food there. Don't worry about safety when walking around the less touristy districts, levels of crime in Dubai are very low.
Consider traveling at times outside of Ramadan. Attractions are usually still open but there will probably be changes to any tours or attractions that involve snacks or meals. The second time I visited Dubai it was Ramadan and, during the daytime, it isn't possible to eat or drink in public – and not drinking is especially difficult in the hot weather. Some restaurants try to get around this by using wooden partitions to hide tourists who are eating and drinking from public view, and some might offer a takeaway service, but most will just stay shut until sunset. It might not be the ideal time for a trip.
A: Do you think you'll go back for another visit? What do you want to see if you go back?
N: I've visited Dubai twice and would definitely consider going back a third time. I'd want to see the Dubai Miracle Garden, visit the Palm, and maybe take a tour to see more of the desert. I also want to see some more local districts and mosques. Plus the city is always building and growing, so there's no way to guess what new things there'll be next time.
---
Hopefully, Nicholas has given you some great ideas for your own trip to Dubai. If you're traveling soon then download the TicketLens app or visit ticketlens.com to see all tours and tickets in Dubai. You can also find more information and compare deals for the Burj Khalifa. Have a great time!